United Airlines will furlough 2,850 of its 13,000 pilots by the end of 2020 as passenger demand remains low and federal funding for airlines runs out in the coming weeks.
Chicago-based United says in a 27 August memo to pilots that if there is no additional government assistance forthcoming beyond the provisions of the CARES Act, "our airline will need to become much smaller".
In March, the US government passed the nearly $2 trillion financial aid package as a response to the coronavirus crisis. In it, the air transport industry was slated to receive nearly $60 billion in grants and loans to help keep the sector airborne.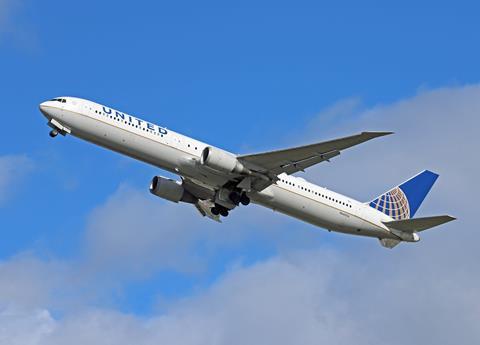 In return, airlines pledged no involuntary furloughs before 1 October. With that deadline fast approaching, airlines, unions and other industry actors have called on the government to extend the programme and allow more time for demand to pick up again.
"In the event the Payroll Support Program is not extended, we will regrettably need to involuntarily furlough up to 2,850 pilots in 2020," the company says.
The airline says in the note that it sent Worker Adjustment and Retraining Notifications (WARN) to hundreds of pilots. US law requires employers send those notices 60 days ahead of when workers might lose their jobs. United has also brought forward the furlough date for some cockpit crew to the end of October, from the end of November.
Pilots' union Air Line Pilots Association, International (ALPA) calls the layoffs "devastating news" for United's pilots.
"Due to the expiration of the CARES Act payroll protections, the first 1,747 pilot furloughs will occur on October 1, with an additional 572 furloughs slated for October 30, and 531 on November 30," the union says on 27 August.
"While other airlines have chosen to reduce manpower through voluntary means, it is tragic that United has limited those options for our pilots and instead has chosen to furlough more pilots than ever before in our history," United's ALPA representatives say.
In its 27 August note, the airline says the lay off figure is "based on the current travel demand for the remainder of the year and our anticipated flying schedule, which continues to be fluid with the resurgence of Covid-19 in regions across the US". That means, should the rebound continue to lag, more furloughs could be possible.
On 31 July, United said it planned to furlough at least one third of pilots, or 3,900 cockpit crew. That was up from the previously announced 2,250 pilot furloughs.