United Airlines has withdrawn the full-year 2020 guidance it disclosed on 21 January as part of its fourth-quarter 2019 earnings report because of unexpected business losses from the coronavirus outbreak in the Asia Pacific region.
The Chicago-based airline had previously expected its full-year 2020 adjusted earnings per share to be between $11 and $13 and first-quarter 2020 non-fuel unit costs (CASM ex-fuel) to be up 1% to 2% year-over-year. United did not provide guidance on 2020 capacity during its 22 January earnings call.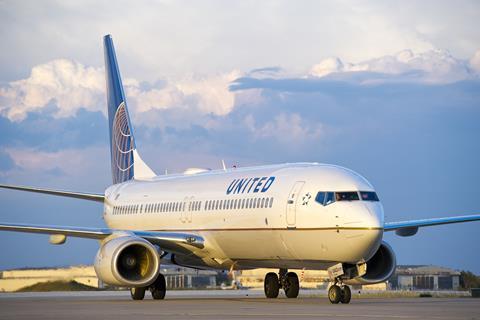 United, which has suspended flights from its US hubs to mainland China and Hong Kong through 24 April, operates the most routes to mainland China and Hong Kong among US majors (nine routes to mainland China from the USA and two routes to Hong Kong, Cirium schedules data shows). The China and Hong Kong routes represent approximately 5% of United's planned capacity for 2020, with its other trans-Pacific routes representing an additional 10% of its planned capacity, the airline states in a 24 February US Securities and Exchange Commission filing.
"As a result of Covid-19, we are currently seeing an approximately 100% decline in near-term demand to China and an approximately 75% decline in near-term demand on the rest of our trans-Pacific routes," United states. "Beyond the first quarter, we believe the range of possible scenarios is too wide to provide earnings guidance at this time."
United says in the 24 February SEC filing that it expects a related decline in fuel prices and its recently extended Chase card deal to partially offset the loss in revenue from its trans-Pacific routes. "Accordingly, we expect first-quarter adjusted diluted earnings per share to remain within our previously provided guidance range of $0.75 to $1.25."
"Our view for the past few weeks has been that fuel savings would largely rescue first-quarter results for those directly exposed to Asia, though with the material caveat that the market tends to de-rate equities when fuel saves the day," JP Morgan Jamie Baker writes in a 24 January research note. "As for the suspension of 2020 guidance, this doesn't alter the narrative of significant (and growing) market uncertainty regarding fundamentals as the virus spreads."
The withdrawal of United's full-year 2020 guidance comes the week before it hosts an investor day in New York on 5 March.
"It appears management wanted to provide some additional targets ahead of their investor day to calm the market," Cowen analyst Helane Becker writes in a 24 February research note.