The US Department of Transportation's Office of Aviation Consumer Protection (OACP) has fined LATAM Airlines Group $1 million in civil penalties for dragging its feet on refunding customers for cancelled flights during the Covid-19 crisis.
"Since March 1, 2020, the department has received over 750 complaints alleging that LATAM failed to provide timely refunds after cancelling flights to or from the United States," the DOT writes in an order published on 22 May.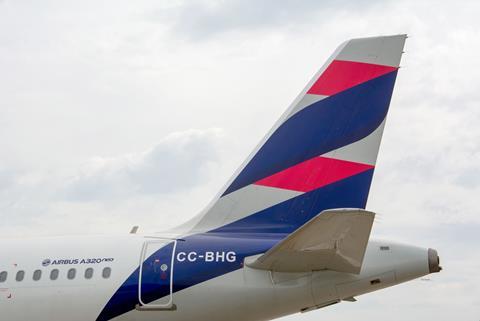 "Our investigation revealed that from March 2020 through at least November 2021, LATAM required consumers who requested refunds to obtain a travel voucher from the carrier first and then exchange the travel voucher for cash by means of a bank transfer," the order says.
From the initial refund request to the issuance of a travel voucher to completion of the bank transfer, the process took several weeks, DOT adds.
"It took LATAM more than 100 days to process thousands of refund requests to completion and, as a result, thousands of consumers experienced significant harm from the extreme delay in receiving their refunds," DOT says.
LATAM responded to the allegations by saying that in the early days of the global pandemic in March 2020 it had to cancel more than 1,100 flights every day due to newly imposed strict travel restrictions, the order says. According to the Santiago-based carrier, refund requests had "quadrupled from normal levels".
In addition, the airline received no financial assistance from the Chilean government, as had its US peers, forcing it into voluntary Chapter 11 bankruptcy proceedings, which resulted in lay-offs.
"According to LATAM, despite the extreme circumstances threatening LATAM's very survival and despite the significantly reduced and demoralised workforce, it always honoured its obligation to provide refunds to passengers on cancelled flights to and from the US although refunds were delayed," the order reads.
LATAM maintains that since the beginning of the pandemic, it has issued more than $62 million in refunds for cancelled flights to and from the USA. The airline says that it "cooperated with all requests made by the OACP during the process".
"Despite the difficulties imposed by the pandemic, LATAM never questioned its obligation to provide refunds to passengers on cancelled flights to and from the US," the carrier said on 23 May, responding to the fine. "LATAM invested $2 million in a new digital platform to process refunds more expeditiously on its website, and is investing an additional $2 million during 2023 to continue to improve the passenger experience with the refund process."
LATAM was the last of three Latin American carriers to emerge from the Chapter 11 process, last November, following Colombia's Avianca and Aeromexico. All three airlines took advantage of the formal restructuring scheme in the absence of pandemic relief funding that was available to carriers in other regions.
Updates on 23 May to add a statement from LATAM Airlines Group.