The US government has pushed back its deadline for companies with more than 100 employees to be fully vaccinated against Covid-19, from 8 December to 4 January 2022.
A new rule, published on 4 November by the US Department of Labor's Occupational Safety and Health Administration (OSHA), gives the companies, including airlines, an additional month to be inoculated, or submit to weekly testing, relieving fears that airline employees' refusal to get the vaccines could have disrupted end-of-year holiday traffic.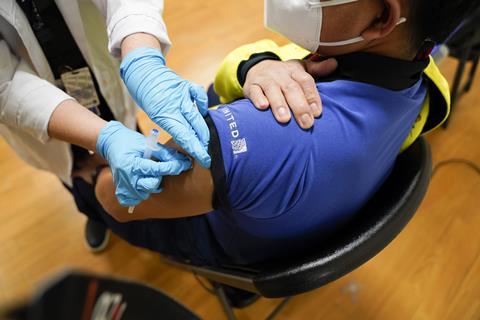 "Covid-19 has had a devastating impact on workers, and we continue to see dangerous levels of cases," says US labor secretary Marty Walsh. "We must take action to implement this emergency temporary standard to contain the virus and protect people in the workplace against the grave danger of Covid-19. Many businesses understand the benefits of having their workers vaccinated against COVID-19, and we expect many will be pleased to see this OSHA rule go into effect."
Earlier guidance had said that federal contractors and those working for companies with more than 100 employees were to be "fully vaccinated" by 8 December. That means individuals had to have their final shot – in the case of the Pfizer BionTech and Moderna regimens, the second jab, and in the case of Johnson & Johnson, the single dose - by two weeks prior to that.
That would have been 24 November, which is the day before the beginning of the long Thanksgiving weekend, one of the busiest travel weekends of the year in the USA.
The new rule says employees must have received the final dose of the vaccine by 4 January. The order also requires employers to provide paid time off for workers to get vaccinated, and for recovery from potential side effects of the jabs.
Many airlines and aerospace companies are still unsure of the exact impact the vaccine mandate might have on their businesses.
United Airlines, which acted early and imposed a vaccine mandate for its US-based staff in September, has seen 99.7% of its approximately 67,000 employees comply with its immunisation requirement. That percentage does not include staff who applied for a medical or religious exemption. Those who did not comply were terminated.
Atlanta-headquartered Delta Air Lines, which has so far not required its employees to get the jabs, is, however, levying a monthly surcharge of $200 on each unvaccinated employee who is on the company's health insurance plan, to compensate for the higher risk of illness.
American Airlines and Southwest Airlines, both based in Texas, have said they do not plan to fire workers who have not been vaccinated. Southwest's chief executive Gary Kelly said in October that the company is "going to have to figure out" how to accommodate the federal mandate.
"Southwest is aware of today's announcement from the White House regarding the vaccine mandate, and the airline is in the process of reviewing the revised guidance," the carrier says on 4 November.
American, meanwhile, informed its employees of the new deadline, and continues to encourage them to be vaccinated.
Updates on 4 November to add statements from American Airlines and Southwest Airlines.