Southwest Airlines is still in hot water.
Fifteen Democratic senators signed a 13 January letter demanding chief executive Bob Jordan provide detailed explanation of the carrier's performance during the end-2022 holiday period.
Led by senators Edward Markey of Massachusetts and Richard Blumenthal of Connecticut, the lawmakers are "seeking answers" for Southwest's "mass flight cancellations in the final week of December", noting Southwest cancelled more than 7,500 flights from 27-29 December while other major US airlines cancelled a combined 1,077.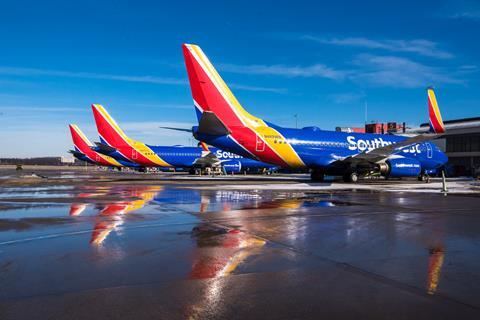 "Although winter storm Elliott disrupted flights across the country, every other airline operating in the United States managed to return to a regular flight schedule shortly thereafter — except Southwest," the senators write. "Southwest must take all necessary steps to ensure that this debacle never happens again."
"For consumers across the country, this failure was more than a headache — it was a nightmare," the letter continues. "[It] ruined the holidays for tens of thousands of travellers, stranding them at gates without their bags and forcing them to miss celebrations with families and friends."
The letter includes specific questions for Jordan regarding scheduling software that crashed during the holiday rush, personnel decisions, ticket refund policies, baggage-handling decisions and shareholder compensation. It calls for Southwest to respond by 2 February.
Southwest cancelled more than 16,700 flights between 21 December and 31 December as its decades-old software lost track of the locations of flight crews and aircraft following a severe winter storm in the Midwest and Northeast USA. It took days for the airline to reset.
"Why did Southwest fail to invest funds to modernise these systems to ensure that it could effectively coordinate crew and flight schedules after major storms and during major travel periods?" reads one question in the 13 January letter. The senators also ask Southwest to set a date for switching to a modernised system.
Jordan vowed in a 27 December video that the technology issues that plagued Southwest over the holidays would be addressed, and that the company's customers and employees would "never again face what's happening".
Southwest's promotion of five executives in the immediate aftermath of the holiday meltdown is another subject of scrutiny in the 13 January letter. "Is executive compensation in any way tied to flight cancellation rates and consumer satisfaction?" the senators ask. "What is the estimated impact of this holiday season on top Southwest executives' compensation?"
US Transportation Secretary Pete Buttigieg has also blasted the airline for its holiday dysfunction. In a 29 December letter to Jordan, Buttigieg warned the DOT "will use the fullest extent of its investigative and enforcement powers to hold Southwest accountable if it fails to adhere to the promises made to reimburse passengers".
The Dallas-based carrier estimates it lost between $725 million and $825 million due to the operational meltdown, and now anticipates a net loss for the fourth quarter of 2022.