US cargo carrier Atlas Air has received regulatory approval to be acquired by an investor group led by Apollo Global Management in a deal that would de-list Atlas from the Nasdaq stock exchange.
Parent company Atlas Air Worldwide Holdings said in a 14 March filing with the US Securities and Exchange Commission that "all regulatory conditions to closing set forth in the merger agreement were satisfied". Atlas had been awaiting final approval from the US Department of Transportation.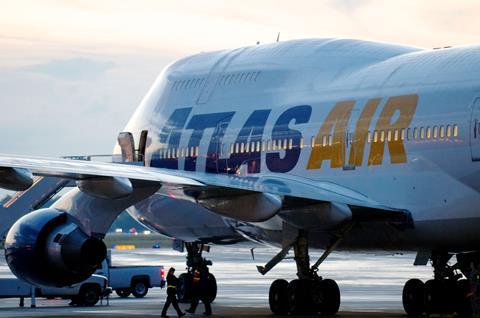 Purchase, New York-based Atlas expects to close the deal on 17 March, "subject to the satisfaction or waiver of the remaining closing conditions", according to the SEC filing.
In August 2022, Atlas agreed to be acquired by a consortium led by Apollo – including J.F. Lehman & Company and Hill City Capital – in an all-cash deal worth $5.2 billion. The deal was approved by Atlas shareholders in late 2022.
Chief executive John Dietrich and his management team will remain in place following Atlas' transition to a private company.
Operating a fleet of Boeing 747s, 767s and 737s, the logistics specialist made about $356 million in 2022, down from a profit of $493 million the previous year. If the deal closes, Atlas will not be required to report financial results.
Atlas flies passenger charter flights and operates a substantial air-freight hauling business. It also leases jets under "dry" – or aircraft-only – and ACMI (aircraft, crew, maintenance and insurance) agreements.
In January, Atlas took delivery of the last-ever production 747, which Dietrich says "will serve the air freight market for decades". The airline currently operates 43 747s, according to Cirium fleets data.