US start-up GlobalX has received an aircraft operating certificate from the Federal Aviation Administration, moving the company closer to starting passenger charter flights, says GlobalX's media representative.
Formed by a Canadian company, GlobalX has received FAA clearance to fly under Part 121 rules, which apply to large scheduled airlines, Calgary-based The Howard Group, says on 4 August.
The FAA did not immediately respond to a request for confirmation that it granted the certificate.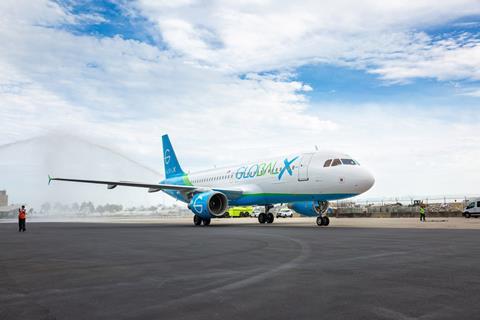 GlobalX, the operating brand of parent Global Crossing Airlines, needs approval from the Department of Transportation before launching operations, it says. "Pending receipt of final DOT authorisation, GlobalX will begin passenger operations as the newest US airline."
GlobalX, which lists a Miami address, has a single Airbus A320 and has started the process of adding a second aircraft – an A321 – to its flight certificate, it says. The carrier expects to receive two more aircraft this year – one in the third and one in the fourth quarter.
Its first aircraft (registration N276GX) was manufactured in 2006 and previously operated by Frontier Airlines, according to Cirium data.
The airline intends to operate charters from Miami and Atlantic City to destinations in the USA, Caribbean and Latin America. GlobalX's partners include casinos, cruise lines, resorts and cargo companies, it says.
The carrier is led by chief executive Ed Wegel, who from 2007 to 2016 was CEO of the revamped Eastern Air Lines. He also worked at Mesa Air Group and several other airlines, including Trinidad and Tobago carrier BWIA West Indies Airways, where he was CEO from 1994 to 1996.
GlobalX's board members include former Airbus Americas chair Allan McArtor and Bill Shuster, a former US lawmaker and chair of the influential House Committee on Transportation and Infrastructure.
The airline apparently also intends to operate cargo-converted A321P2Fs, a product of German company EFW, which is a joint venture between ST Aerospace and Airbus. In May, ST said it plans to lease five A321P2Fs to GlobalX, with the first lease starting in the fourth quarter of 2022.
A Canadian company called Global Crossing Airlines Group, affiliated with Canadian prospective start-up airline Canada Jetlines, formed the US Global Crossing in 2020. In doing so, the Canadian company changed its "jurisdiction of incorporation" to the US state of Delaware.
In June, Global Crossing spun out Jetlines into a standalone company that will continue pursuing a Canadian air operating certificate. GlobalX has retained an equity stake in Jetlines, which has for years been trying to start ultra-low-cost passenger flights in Canada.