Virgin Atlantic is preparing an initial public offering in London for this autumn, as it hopes for a return of transatlantic travel, Sky News reported on 8 August.
A flotation on the stock market would mean founder Richard Branson's stake falling to below 50% for the first time, Sky reported, citing City sources.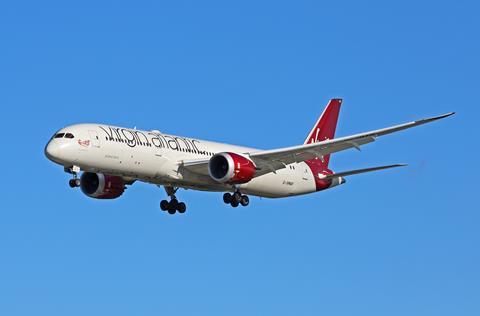 Branson's Virgin Group currently owns 51% of Virgin Atlantic, with the rest held by Delta Air Lines.
"We are not commenting on speculation at this time," Virgin Atlantic says in response.
During the Covid-19 pandemic, Virgin Atlantic has shifted its capacity to focus more on leisure destinations and the visiting friends and family market, with a focus on the Caribbean in particular.
The carrier has agreed a series of measures to bolster its finances amidst the crisis. In September 2020, it carried out a £1.2 billion ($1.7 billion) private recapitalisation, while in January this year it secured a $230 million financing package secured against two Boeing 787s. In March, the airline agreed a further £160 million package of loans and payment deferrals, £100 million of which was from Virgin Group.
Goodbody analysts comment: "The pitch to investors will clearly be the timing of the return to normalised demand and business traffic, with this challenged by concerns over the longevity of government-imposed restrictions. That debate will be central if the listing is launched as early as the autumn as being suggested."
The UK carrier is not the only one pinning hopes on a fast return of transatlantic travel. Lufthansa chief executive Carsten Spohr said on 5 August that he was confident the USA would open up soon to non-residents and that there would be business travel demand between the USA and Europe.
US-based operators have reported a sharp increase in demand for European destinations when restrictions have been eased.