Virgin Atlantic has finalised a £1.2 billion ($1.5 billion) refinancing package over the next 18 months, which the UK carrier says marks a "major milestone" in securing its future and under which it is aims to return to profit from 2022.
The restructuring plan is based on a five-year business plan and is supported by existing shareholders Virgin Group and Delta Air Lines, as well new private investors and existing creditors.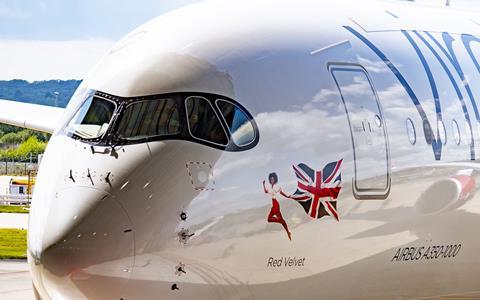 To secure approval from all relevant creditors before implementation, the restructuring plan will go through a court-sanctioned process under the UK Companies Act. "With support already secured from the majority of stakeholders, it's expected that the restructuring plan and recapitalisation will come into effect late summer 2020," the airline says.
Shareholders are providing around half the financing over the life of the plan, including a £200 million investment from Virgin Group and about £400 million of shareholder deferrals and waivers.
Institutional investor Davidson Kempner Capital Management is providing £170 million of secured financing, while creditors will support the airline with over £450 million of deferrals.
The arline adds that it continues to have the support of credit card acquirers Lloyd's Cardnet and First Data.
Virgin Atlantic chief executive Shai Weiss says: "We have taken painful measures, but we have accomplished what many thought impossible. The solvent recapitalisation of Virgin Atlantic will ensure that we can continue to provide vital connectivity and competition to consumers and businesses in Britain and beyond.
"Once our plan is approved, we will continue to focus on providing our customers with the service they have come to expect. Despite the incredible efforts of our teams, through cancelled flights and delayed refunds we have not lived up to the high standards we set ourselves, but we will do everything in our power to earn back their trust."
The refinancing is in addition to various measures already implemented by the airline, including annual cost savings of around £280 million and £880 million from rephasing and financing of aircraft deliveries over the next five years.
In May, the airline announced plans to reduce the number of people it employs by 3,550 across all functions as part of resizing of the airline.
The airline aims by 2022 to fly the same number of sectors as in 2019 despite its smaller scale, "demonstrating productivity and efficiency improvements", it says. By then it will operate a streamlined fleet of 37 twin-engine aircraft following the retirement of seven Boeing 747s and four Airbus A330-200s. It is also rescheduling outstanding A350 and A330-900 deliveries.
The announcement comes ahead of Virgin restarting passenger flying from 20 July.