Virgin Atlantic needs government support to survive the coronavirus crisis, the airline's founder warned today.
In a 20 April blog post, Virgin Group founder Richard Branson writes: "Together with the team at Virgin Atlantic, we will do everything we can to keep the airline going – but we will need government support to achieve that in the face of the severe uncertainty surrounding travel today and not knowing how long the planes will be grounded for."
The British billionaire, who owns 51% of Virgin Atlantic, says the airline is seeking a commercial loan backed by the UK government, and points to similar financing awarded to budget carrier EasyJet.
"It wouldn't be free money and the airline would pay it back (as EasyJet will do for the £600 million [$748 million] loan the government recently gave them)," writes Branson.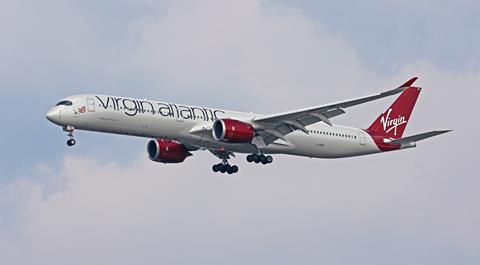 "The reality of this unprecedented crisis is that many airlines around the world need government support and many have already received it. Without it there won't be any competition left and hundreds of thousands more jobs will be lost, along with critical connectivity and huge economic value," he adds.
The UK government said on 24 March that it would consider providing "bespoke support" to individual airlines, but only as a "last resort" after all other options have been exhausted.
Branson points out in his blog that Virgin Group has "committed a quarter of a billion dollars to help our businesses and protect jobs", and says it will "continue to invest" what it can.
In an apparent rebuttal of criticism on social media levelled at wealthy individuals requesting taxpayer-funded bailouts, the Virgin founder adds: "I've seen lots of comments about my net worth – but that is calculated on the value of Virgin businesses around the world before this crisis, not sitting as cash in a bank account ready to withdraw."
Virgin Australia – which recently requested a A$1.4 billion ($892 million) bailout from the federal government in its home country – is also "fighting to survive and need[s] support to get through this catastrophic global crisis", says Branson.
"We are hopeful that Virgin Australia can emerge stronger than ever, as a more sustainable, financially viable airline," he adds. "If Virgin Australia disappears, Qantas would effectively have a monopoly of the Australian skies."