Mexico's Volaris reported a profit of $28 million during the fourth quarter of 2022, as it expanded capacity and kept expenses flat.
The ultra-low-cost carrier said on 21 February that for the full year, it posted a loss of $30 million compared with a profit of $106 million during 2021.
Revenue during the final quarter of the year rose 22% to $820 million, from $671 during the same three months a year ago. Revenue for the full year rose 29% to $2.85 billion from $2.2 billion. That said, expenses for the quarter and the year rose 44% and 55%, respectively. Jet fuel costs alone jumped 68% and impacted the airline's profit margin in the short term, chief executive Enrique Beltranena says.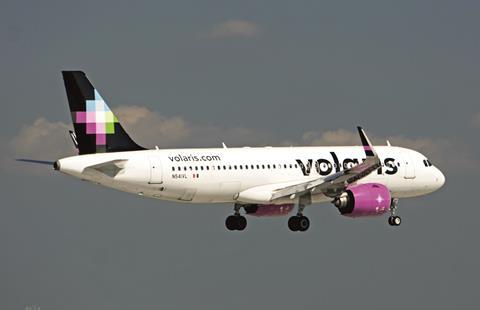 "2022 was an important touchstone for Volaris, as it showcased our ability to deliver on the important financial expectations that are within our control," he says. The airline expanded capacity 26%, and kept costs lower during a period of "significant economic volatility", Beltranena adds.
Volaris transported 8.5 million passengers during the final quarter of 2022, an increase of 16% over the same quarter a year ago. Domestic and international passengers numbers increased 14% and 26%, respectively, while total capacity, as measured in available seat miles (ASMs), increased 18% to 9.5 billion.
During all of 2022, Volaris transported 31.1 million passengers, up 27%, while total ASM capacity for the year rose 26% to 35.3 billion. It says it expects to add another 10% to its capacity during 2023.
The company expects total operating revenue to rise to between $3.2 and $3.4 billion this year.
During the fourth quarter, Volaris added four Airbus A321neos and one A320neo to its fleet, bringing the airline's total number of aircraft to 117 as of the end of 2022. It currently operates four A319s, 88 A320s and 25 A321s. Of the total fleet, 54% are New Engine Option (NEO) models. Volaris says it plans to add eight aircraft to its fleet, bringing its total to 125 by the end of 2023.
Volaris will hold an earnings call on 22 February to discuss its fourth-quarter results in more detail.