Mexican ultra-low-cost carrier Volaris has obtained authority to operate a subsidiary in El Salvador.
The Mexico City-based airline will launch the operation, called "Volaris El Salvador", in September, it says on 25 August.
The Civil Aviation Authority of El Salvador granted it an operations permit "for regular and non-regular international public air transportation services for passengers, cargo and mail", adds the company, which serves North and Central America.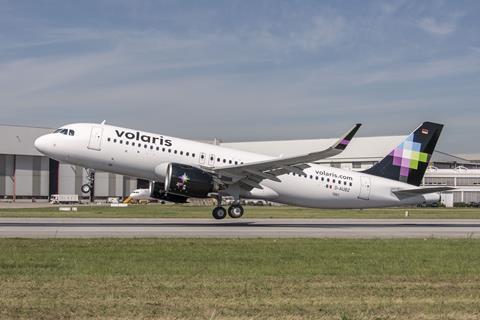 "Volaris looks forward to broadening its ultra-low cost model in Central America by offering low base fares and point-to-point services in the region," the airline says. It does not disclose details about the operation's fleet or routes.
Earlier this month, Volaris said July demand for both domestic and international travel was higher than in the same month in pre-pandemic 2019.
Domestic demand was up 23% and international was 10% higher, as the airline increased capacity accordingly. Its load factor in July was 89.5%.
The airline transported 2.3 million passengers that month, a record, and 16% more than in July 2019.
"We have not seen any reductions in travel demand, and we reaffirm our capacity growth guidance for the quarter of 20-22% versus the third quarter of 2019", assuming no negative consequences of the more-virulent "Delta" variant of the coronavirus, the carrier said at the time.