Canada's WestJet and Delta Air Lines reportedly intend to resubmit their plans for a transborder joint venture, eight months after the carriers pulled their last application to the US Department of Transportation (DOT).
Speaking at a webinar sponsored by the International Aviation Club of Washington DC on 22 July, WestJet chief executive Ed Sims reportedly said the two airlines remain dedicated to such an endeavour.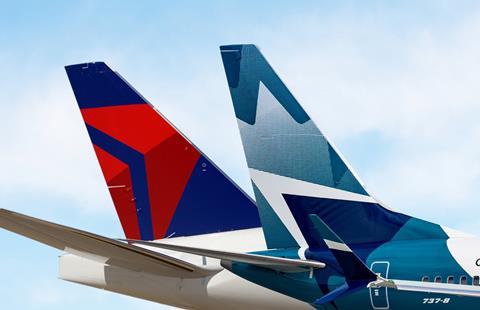 While WestJet declined to confirm Sims' exact words at the event and a recording was not made available, the airline says on 23 July that it is "committed to enhancing our strong partnership to increase transborder competition and bring more benefits to travellers".
"We are working together to decide our next steps in that evolution," WestJet adds.
Atlanta-based Delta declined to comment.
Last November, the two airlines withdrew their application for a transborder joint venture saying the DOT's conditions for antitrust immunity approval were "arbitrary and capricious".
The DOT had tentatively approved the JV a month earlier. It said at the time that in light of the downturn in passenger commercial air traffic due to the coronavirus pandemic, antitrust immunity would be appropriate to help the industry back on its feet.
But the DOT's approval completely excluded Calgary-based WestJet's ultra low-cost carrier Swoop and required the two airlines to divest eight pairs of slots at New York's LaGuardia airport in an auction within eight weeks of the final order.
In a regulatory filing on 20 November the two carriers said they were "deeply disappointed" that the DOT took two years to approve the JV, and they could not accept the result.
"Several of the conditions proposed by the Department on its grant of antitrust immunity are unreasonable and unacceptable and therefore the joint applicants must withdraw their application," the airlines said at the time.
Canada's air transport industry has suffered under a border closure and strict, long-running restrictions during the pandemic. The government eased some of the travel rules for Canadian citizens and permanent residents earlier this month, and will begin allowing vaccinated tourists from the US to enter the country in August. International visitors who have been inoculated with one of four vaccines accepted by the Canadian government will be permitted entry from September.
Earlier this week, competitor Air Canada said it was ramping up its transborder network to up to 220 flights per day between the two countries in light of the government's move to relax the rules.
Updates on 23 July to indicate that Delta declined to comment.