Nav Canada, the Canadian provider of civil air navigation services, has increased fees for air traffic control services by almost 30%, prompting the country's second-largest carrier to pass the fee bump to customers.
Calgary-based WestJet criticises the fees in a blog post on its website on 1 September, saying it will tack a C$4-7 ($3-5) surcharge onto ticket prices in response. The fee amount will depend on flight durations, it adds.
Nav Canada announced the fee rise in May, and it took effect today.
But the increase, WestJet chief executive Ed Sims says, is detrimental to the country's rebound from the coronavirus.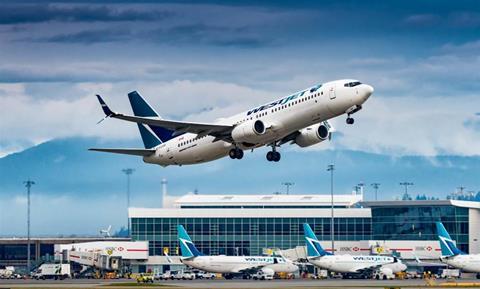 "We are deeply concerned the Nav Canada rate increase will lead to a further reduction in the number of travellers," Sims says. "Burdening travellers who have been severely impacted by this pandemic with incremental costs will only serve to undermine Canada's economic recovery."
On 20 May, Nav Canada released the proposal to raise fees 29.5% on average, noting the pandemic had strained its liquidity after demand fell sharply following lockdown measures. Airlines across the country had either suspended operations completely or reduced networks to skeleton schedules.
"The decline in air traffic movements will impact Nav Canada's revenue and cash flow in both the current and next fiscal year," the organisation wrote in May.
"Nav Canada is proposing this rate action only after having actively pursued all available alternatives, including government assistance," it added. "While the government has made support available through wage subsidy programmes, the level of support provided does not obviate the need for the proposed increase to customer service charges."
Montreal-based airlines Air Canada and Air Transat, the country's number one and three operators of big jets by capacity, could not immediately be reached for comment.
WestJet, which was forced to lay off more than half its staff as a result of the coronavirus pandemic, points to other countries that have shown significant financial support for their aviation sectors.
"Countries around the world have taken action to limit or defer costs to the aviation industry, yet our situation remains exacerbated by double-digit increases that are beyond our control," Sims says.
Canada's coronavirus mitigation strategy is one of the most stringent in the world, and includes mandatory quarantines and rules limiting movements between Canadian provinces. In addition, Canada has effectively closed the longest peaceful border in the world, to the United States, for non-essential travel, since 21 March.
Lawmakers in both countries have repeatedly extended the border closure in an effort to stop the spread of the coronavirus. It is currently scheduled to open on 21 September, six months after being sealed.
Air Canada chief executive Calin Rovinescu has repeatedly blasted the government for maintaining the restrictions, saying they have prevented the airline and its Canadian peers from getting back to any semblance of normal business operations.
He has said the country's rules, which might have been effective in March but no longer are, "constitute one of the most-severe aviation lockdown regimes in the world", with no relief in sight.