Walsh announced on 9 January that he would retire in June 2020, with Iberia chief executive Luis Gallego taking the reins
In the story of European airline consolidation, British Airways was late to the party. Whereas Air France-KLM and Lufthansa-Austrian sealed their respective mergers in the 2000s, BA's tie-up with Iberia, the result of which was IAG, did not complete until 2011.
Yet it is the structure of IAG, with Willie Walsh as chief architect, that has arguably proven to have strongest foundations.
Centred around an independent holding company, with a business services group performing back-office functions and its airline operations competing internally for capital, IAG has been a winning formula.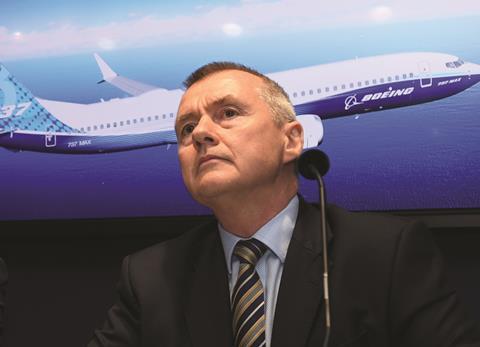 "As time goes on, we see other airlines moving towards the IAG structure in environments where you want to keep national brands and multiple operational companies, in contrast to the US where they fully merge into one brand," says Andrew Lobbenberg, head of European transport equity research at HSBC.
It is one facet of what will be Willie Walsh's extraordinary industry legacy.
Another is his talent for turning around state-owned airlines and handling M&A.
As a nickname, "slasher Walsh" may not be a pretty one, but Aer Lingus was a debt-ridden, loss-making airline until he aggressively cut its costs as chief executive in the early-2000s, demonstrating a willingness to confront organised labour.
It was these skills that helped him get the top job at British Airways.
"It was a huge surprise at the time that someone who ran a small airline like Aer Lingus should take on what was considered at the time the prestigious role of running BA," recalls Lobbenberg. "And yet he'd done an amazing job at driving change at Aer Lingus, which was a very political, very unionised company."
During his time at BA, Walsh continued and intensified the airline's cost-cutting programme, refocusing on core operations and engaging in intense battles, often in the courts, with unions.
JLS Consulting director John Strickland notes: "Just as he had succeeded in turning around Aer Lingus, saving it from potential bankruptcy, he similarly reinvigorated BA, strengthening its efficiency and preparing it for a new era of increasingly tough competition in all of its core market segments."
A joint venture with American Airlines was sealed, having been negotiated in the face of intense regulatory resistance – something Walsh's predecessors had tried and failed to achieve. It proved a highly profitable move.
Walsh's cost-cutting efforts sometimes went down badly with customers who complained that costs had cut too deep, hurting the passenger experience.
"Is BA still BA?" one airline executive asked rhetorically, when asked about Walsh's legacy. "The structure of the business has been tremendous, but he was way too aggressive with results. There needs to be a better balance between numbers and customers."
In 2009 came the announcement of a preliminary merger with Iberia that closed two years later, forging IAG. BMI was purchased in 2011 and merged into BA, followed by Veuling in 2013, which remains as a standalone brand.
The deftness with which these acquisitions were handled won Walsh much industry admiration, standing in firm contrast to several competitors' fraught M&A ventures.
In 2015, IAG acquired Aer Lingus, the Irish flag carrier for which Walsh served as a pilot before ascending to chief executive, in which role his relations with the government soured over his intention to list the company.
Partly given this history, the Aer Lingus deal was a "sensitive topic", remembers Strickland, adding that the Irish government "had refused to fully divest their stake and allow him to take it private when he was chief executive, but he succeeded in achieving the acquisition for IAG".
Under his watch, Dublin was made a hub for North American travel, with many passengers transferring from the UK.
"Dublin was never set out or designed to be a hub, it just so happened that people recognised there's a real advantage in hubbing over Dublin, and that's given us the confidence to expand the transatlantic network," he later told Airline Business.
Today, Aer Lingus flies to 13 destinations across the USA and Canada and is positioned between IAG's low-cost Vueling brands and full-service British Airways.
The announcement that Air Europa would become part of IAG was made in late 2019.
"Acquiring Air Europa would add a new competitive, cost-effective airline to IAG, consolidating Madrid as a leading European hub and resulting in IAG achieving South Atlantic leadership," Walsh said of the deal, in much the same way that Dublin has become for North American travel.
The completion and integration of Air Europa is a key task awaiting Luis Gallego, Walsh's replacement, who has been chairman of Iberia since 2014.
Although seen as a safe pair of hands, Gallego will have to adapt from a career based entirely within Spain to managing a global company.
Seen as the continuity choice, Gallego stood out for successfully delivering the restructuring of Iberia where others had tried and failed, including – like Walsh – facing intense negotiations with unions.
The rationalisation of IAG's brand portfolio is another key challenge he will face, as Walsh acknowledged during the group's capital-markets day in the fourth quarter of 2019.
While IAG's variety of brands is mostly concentrated in Spain – Iberia Express, Iberia, Level, Vueling and Air Europa – streamlining it will have consequences across the group's European operations.
Gallego is also likely to keep one eye on opportunities for further acquisitions in Europe, with the continent's consolidation seeming far from complete.
Lobbenberg predicts: "There is going to be more M&A in Europe, and I imagine IAG will be active in it… That will be interesting to follow."