Aircraft Interiors Expo, the main convention for the cabin equipment sector, is being postponed from April to the end of August 2021, to give the industry a chance to recover from the effects of the Covid-19 crisis, says organiser Reed Exhibitions.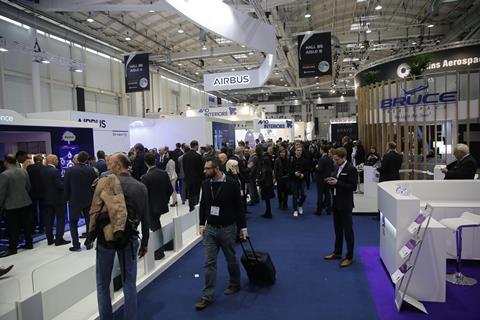 This year's edition of the annual Hamburg show, together with its sister World Travel Catering & Onboard Services Expo, was one of the first big events to fall victim to the pandemic as many countries introduced lockdowns in March. It was initially rescheduled until later in the year and then cancelled.
The latest announcement makes AIX one of the first aerospace events in 2021 to be moved because of uncertainty about the effects of the crisis continuing into next year, although organisers of Australia's 2021 Avalon air show moved swiftly in March to switch the event from early to late 2021.
If AIX does go ahead in August it will mean that a show that has been an annual fixture since the turn of the century will not have taken place for two-and-a-half years.
All eyes will now be on the Paris air show, set for June. While organiser GIFAS will be to keen to hold off a decision as long as possible to see whether the health situation improves, leaving it too late could mean exhibitors wasting considerable amounts of money in set-up costs, as happened with the Farnborough air show this year.
AIX and WTCE exhibition director Polly Magraw says the priority is to deliver a "Covid-secure face-to-face event" later in the year. "After consulting with exhibitors and airlines, we recognise the industry needs more time to allow for the reopening of borders, lifting of travel restrictions and resuming of services. It is clear that the industry needs to meet in person later in 2021," she says.
She adds that most exhibitors have "confirmed their participation at the face-to-face events in 2021", and that Reed Exhibitions would be providing a series of virtual events in April to allow the sector to network.