Canadian pilot training company CAE has received required regulatory approvals for its planned purchase of L3Harris Technologies' military training business and now expects the acquisition will close on 2 July.
News of the regulatory approvals, disclosed by Montreal-based CAE on 28 June, means the company is on track within days to become a military training powerhouse.
The deal calls for CAE to pay $1.05 billion to purchase the L3Harris business, which includes Doss Aviation, a provider of initial flight training to the US Air Force (USAF), AMI, a flight simulator manufacturing operation, and Link Simulation & Training, which provides training to the US military.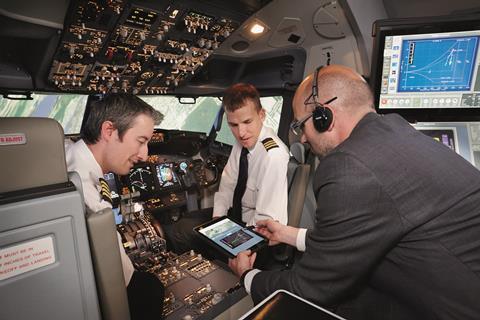 The acquisition will "approximately double CAE's core military training business in the United States", CAE says. "L3Harris military training will bring significant experience in the development and delivery of training systems for fighter and bomber aircraft, army rotary-wing platforms, submarines and remotely piloted aircraft."
With the deal, CAE will gain a training position on programmes including the USAF Lockheed Martin F-16, the US Navy and US Marine Corps Boeing F/A-18 and USAF Northrop Grumman B-2 bombers, it says.
CAE disclosed its planned acquisition of the L3Harris business, which generated $500 million in 2020 revenue, in March.
CAE has been heavily dependent on the civil aviation industry. In fiscal year 2020, 60% of CAE's revenue came from civil aviation training products and services, with the military aviation sector accounting for 37%, regulatory documents show.
"This represents the largest acquisition in our history and clearly demonstrates our strategy to strengthen and expand our position in all the markets CAE serves," says CAE chief executive Marc Parent. "We will be emerging from the pandemic much stronger and more ready to meet the growing demands of our customers."
CAE has been on a recent acquisition kick, with particular focus on expanding its commercial-aviation footprint – a segment that significantly declined amid the Covid-19 pandemic. In January, CAE acquired the Canadian division of Textron's Tru Simulation and Training. It purchased New Zealand crew services provider Merlot Aero in December 2020 and Dutch training provider Flight Simulation Company in November 2020.