US hydrogen-fuel developer Universal Hydrogen is opening an engineering and design centre in Toulouse, France – a move furthering alignment between the start-up and Airbus, which has been working on a hydrogen-fuelled aircraft concept.
Universal, which is led by a former Airbus executive and counts former Airbus officers as advisers, has also hired outgoing Airbus veteran Pierre Farjounel as general manager of its European operations.
The California-based company revealed the moves on 20 September.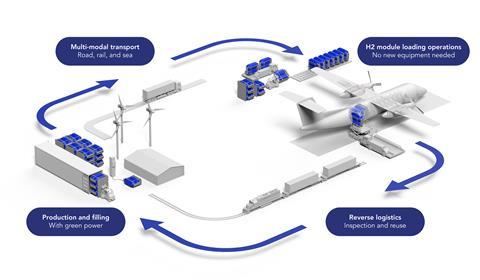 Neither Universal nor Airbus have disclosed the existence of any partnership between them.
"We can't comment on the Airbus relationship at this time," Universal tells FlightGlobal. Airbus did not immediately respond to a request for comment.
Universal's new Toulouse site will be in Hangar B16 at Toulouse-Blagnac airport. It will open in January 2021.
"As it grows through the course of 2022, the engineering centre will also support the development of conversion kits for retrofitting regional aircraft with a hydrogen-fuel-cell powertrain, as well as development of modular hydrogen storage technology for single-aisle, unmanned aerial vehicle (UAV), and other applications," Universal says.
The Toulouse facility will be Universal's second such site, the first being its headquarters at Hawthorne Municipal airport near Los Angeles.
In August 2020, former Airbus executive Paul Eremenko revealed he had formed Universal Hydrogen, which aims to bring hydrogen-fuel technology and a related distribution system to aviation as soon as the mid-2020s. To prove the technology, Universal has said it is modifying a De Havilland Canada Dash 8-300 turboprop to burn hydrogen. The company is also developing a hydrogen-burning ATR 72 turboprop.
Central to Universal's efforts is a "modular" hydrogen distribution system involving "liquid-hydrogen capsules" that can be transported easily from distribution centres to airports, where they can be dropped into aircraft.
Eremenko, who joined Airbus in 2015, was CEO of its Silicon Valley innovation arm Acubed before becoming Airbus CTO. Eremenko left Airbus to join United Technologies (now Raytheon Technologies), where he also held the CTO role before leaving that company in 2019.
Universal's new European general manager Farjounel has been Airbus' head of digital continuity and information systems for next-generation aircraft. Farjounel joined Airbus in 2013 and was chief of staff to Airbus's CTO at the time Eremenko held that position, according to LinkedIn profiles. He will leave Airbus at the end of September for his position at Universal, the company says.
Earlier this year, Universal hired Mark Cousin – who was Acubed CEO after Eremenko – as vice-president of engineering. It also landed two former Airbus officers – former CEO Tom Enders and former chief commercial officer John Leahy – as advisers.
In September 2020, Airbus revealed concepts for three hydrogen-powered aircraft it said could be developed for service entry within 15 years.
Story updated on 20 September to note that the Toulouse site will open in January and that Farjounel will leave Airbus later this month.