Downturn and broader economic fallout caused by coronavirus prompts Woodward and Hexcel to terminate planned merger
The aerospace industry downturn and broader economic fallout caused by coronavirus has led aircraft systems supplier Woodward and aerospace composite company Hexcel to terminate a planned merger.
The companies say the decision comes "in response to the increasing impact on both the aerospace and industrial sectors, and global markets broadly, resulting from the health crisis caused by the coronavirus", according to a joint 6 April statement.
"The pandemic has resulted in a need for each company to focus on its respective businesses and has impacted the companies' ability to realise the benefits of the merger".
Fort Collins, Colorado-based Woodward, which had $2.9 billion in 2019 revenue, makes aerospace fuel pumps, nozzles, valves, thrust reverse actuation systems and flight deck controls. Its components are found on Airbus A320neo-family aircraft, Boeing 737 Max, 787s, Gulfstream G650 business jets, helicopters and fighter jets, according to company documents.
Hexcel, based in Stamford, Connecticut, makes composite products for aircraft made by a range of manufacturers, including Airbus, Boeing, Bombardier and Embraer. Commercial aerospace sales accounted for 68% of Hexcel's $2.6 billion in 2019 revenue, securities filings show.
In January, Hexcel and Woodward announced their intention to merge in the third quarter of 2020.
In one 6 April research report, Financial services company Canaccord Genuity called news of the deal's termination "not entirely surprising" considering the "dire outlook for Boeing production and deliveries", Boeing's decision to extend a temporary shutdown of its Washington state production facilities and the collapse of air travel demand.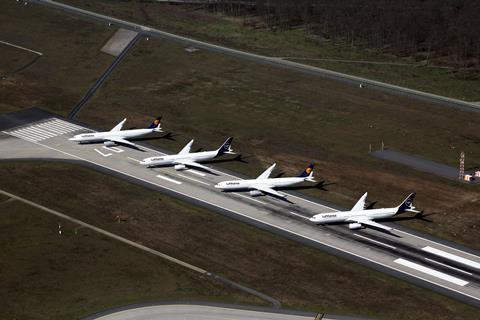 Boeing on 5 April said it was extending "until further notice" what had been a two-week Washington state shutdown.
"Both the supply and demand shocks to the commercial aircraft market have created much more distraction now, and require a focus on near-term cost actions and execution, as opposed to white-knuckling a merger on the scale of Woodward-Hexcel," says Canaccord's report.
The substantial decline in the price of Hexcel's stock in recent weeks makes that company an "attractive target" for a takeover, Canaccord adds.
Hexcel's stock price has sunk 61% since the beginning of 2020, to roughly $31 per share on 6 April.