Inmarsat Aviation president Philippe Carette is not afraid of upcoming competition in the in-flight connectivity (IFC) market from new entrant low-Earth orbit (LEO) satellite providers, because he is "convinced" that LEO as a standalone offering will not be the best approach for the aviation industry.
The multi-orbit, integrated strategy adopted by Inmarsat through its Orchestra network – which will bring together its existing geosynchronous (GEO) satellites with a constellation of around 150 LEO satellites and terrestrial 5G – is "the best approach" to serve the airline market, Carette tells FlightGlobal during the Aircraft Interiors Expo in Hamburg today.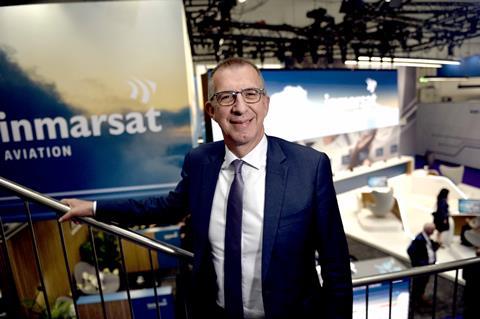 LEOs "should play a role" and can bring "additional support" to IFC services, particularly when aircraft are on approach to "hotspot" airports, says Carette. However, he is "definitely convinced the endgame will be a combination" of GEO and LEO satellites, and 5G.
Inmarsat unveiled Orchestra in July 2021, billing it as combining "the benefits of multiple technologies to create one cohesive solution". Alongside its OneFi customer experience platform, Orchestra features heavily on Inmarsat's stand at this year's show.
Carette, who joined the London-headquartered satellite company in November from Thales where he was chief executive of its InFlyt IFE service, says airlines have responded enthusiastically to both solutions.
OneFi was unveiled in September with the aim of monetising IFC by bringing together a host of onboard services within a single portal interface which passengers can access through their own devices. It will be launched in early 2023 by Saudia, and Carette says other unnamed airline customers have also committed to the service.