Thales has upgraded its Avant Up in-flight entertainment system to include two new features: the Optiq 4K QLED HDR display and its Pulse charging unit.
Detailing the improvements at a media briefing during Aircraft Interiors Expo in Hamburg, Thales executive vice-president avionics Yannick Assouad said the Optiq QLED screen can display "up to one billion colours".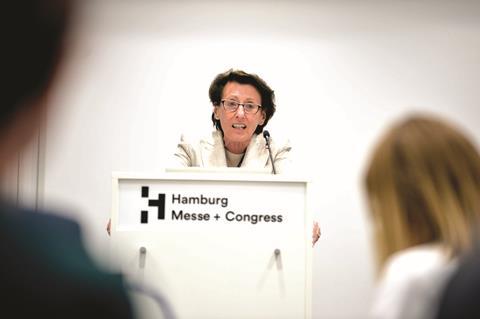 American Airlines will be the launch customer for Optiq and will equip its new Airbus A321XLR and Boeing 787-9 aircraft with the units.
Thales opted for QLED displays instead of OLED screens because the latter are "more expensive" and airline customers "want lower-cost" products, says Thales InFlyt Experience chief executive TK Kallenbach. He adds that the QLED screens provide "eye-popping visuals".
Avant Up also features Thales' Pulse power solution, which eliminates today's "first come, first served" power allocation to guarantee that all onboard devices can charge, says Thales. It does this by "allocating energy in a different manner to the former system", explains Assouad.
She adds that Thales has also developed a faster method of loading IFE content, in response to complaints from airlines about the amount of time this process takes each month.
On the connectivity side, Thales expects its FlytLive regional in-flight Wi-Fi solution for airlines flying over the Americas to be enhanced when SES' new SES-17 Ka-band high-throughput system (HTS) satellite becomes operational "in the coming weeks", says Assaoud. SES-17 launched into space on an Arianespace Ariane 5 rocket in October.
Spirit Airlines was the first US-based carrier to sign up for FlytLive. Assaoud says that Thales is "looking forward to equipping more airlines in the Americas with this service in the coming weeks".