Production cuts for the Boeing 787 programme weighed on the aerostructures business of Mitsubishi Heavy Industries (MHI) during its 2021 financial year.
In the 12 months ended 31 March, MHI's overall commercial aviation revenue was Y109 billion ($846 million), down 38.4% from a year earlier.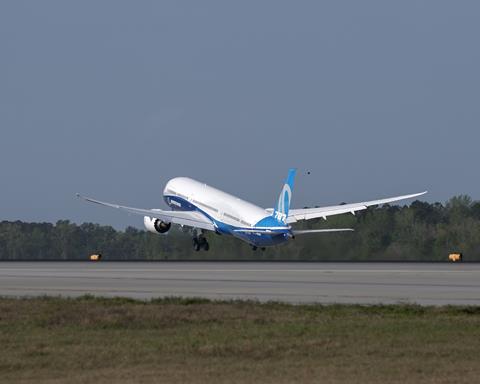 Revenue at its aerostructures business was 70% below FY2019 levels. The company indicates that production cuts for the 787 were a particular challenge.
"Aero structures order intake and revenue will depend on OEM manufacturers' production plans," says MHI.
Order intake for the commercial aviation business was also down in the year, falling 21.4% Y109 billion.
The company delivered 20 shipsets for the 777 programme compared with 24 a year earlier. Shipsets for the developmental 777X fell to four from seven. MHI makes the 777's aft fuselage panel, tail fuselage, and entry doors.
More significantly, shipsets for the 787 programme plunged to just 24 in FY2021, down from 84 in FY2020. MHI produces the 787's composite wings.
Deliveries of the 787 were suspended for most of 2021 owing to manufacturing quality issues which have taken longer to rectify than originally planned.
MHI's aero engine revenue was Y77.6 billion for the year, up 28.2% from a year earlier. Still, this is 30% below FY2019 levels.
MHI notes that the market is recovering for narrow-body aircraft, particularly newer jets with fuel efficient engines.
It also indicates that both aero engines and aerostructures were particularly hard bit by the coronavirus pandemic.
Overall, FY2021 revenue at the company's aircraft, defense and space business was Y605 billion, down 13.8% from a year earlier.
Still, the unit swung to a net profit of Y20 billion from a net loss of Y94.8 billion a year earlier, largely due to the absence of costs related to the defunct SpaceJet regional aircraft programme.
Aircraft, Defense & Space accounted for 15.6% of MHI's overall revenue for FY2021.