The Aero India show in Bengaluru will be the first major international air show in nearly 12 months, but attendees will have ample reminders of the coronavirus pandemic.
The show will run from 3-5 February and will not include public days, according to the event's website.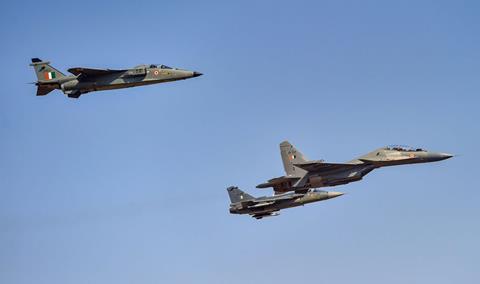 It comes after a coronavirus-plagued 2020 in which big shows such as Farnborough and Airshow China in Zhuhai were cancelled. This year's Paris air show has also been called off.
The last major international show to take place was the Singapore Airshow, which ran from 11-16 February 2020, but which suffered sharply reduced attendance.
FlightGlobal understands that international teams will be all but non-existent at Aero India, with companies manning stands largely with India-based staff.
In addition to the challenges involved with travelling amid the pandemic, international visitors may also be put off by India's case numbers. The Johns Hopkins Coronavirus Resource Center shows that India has recorded 10.8 million cases of Covid-19, the second highest in the world after the USA.
Everyone attending the show needs to take a Covid-19 test 72h before arriving at the show. This needs to be uploaded to a special portal for validation by a medical team. The show has also issued 19 pages of guidelines covering topics such as physical distancing, crowd control, hygiene, and other health and safety measures.
Masks are required at all times, and attendees must maintain a 2m distance from each other. There will be innumerable plastic barriers and hand sanitiser stations.
Despite the challenges, the US government is sending a high level delegation to the show aboard a military aircraft. The delegation includes Kelli Seybolt, deputy undersecretary of the Air Force, International Affairs, and three US Air Force generals. The contingent must all test negative for Covid-19 96h before travelling.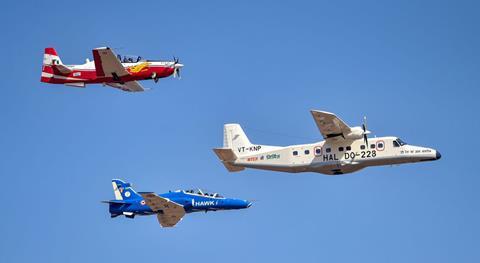 The delegation's presence underlines India's importance as a US partner in the Indo-Pacific region, as well as the size of its defence market.
One major deal that will be in the spotlight is the Indian air force's planned acquisition of 114 fighters. This mammoth acquisition has attracted interest from Boeing, which will promote the F-15EX at the show. The deal has also attracted interest from Lockheed, offering the F-16 rebadged as the F-21, the Eurofighter Typhoon, Dassault Rafale, and Saab Gripen E. Prior to the show, Rostec posted special Aero India videos on YouTube detailing the RAC MiG-35 and Sukhoi Su-35.
New Delhi also has a requirement for 57 naval fighters. Boeing has promoted the F/A-18E/F Super Hornet and Dassault the Rafale for this potential deal.
In addition, New Delhi has a range of other requirements, including for anti-submarine warfare helicopters, airborne early warning and control aircraft, tankers, and other systems.
Also in focus will be indigenous programmes such as the developmental Advanced Medium Combat Aircraft, the Hindustan Aeronautics Tejas Light Combat Aircraft, and locally-produced helicopters.