Hong Kong-based HAECO has signed a long-term component maintenance agreement with Russia's Aeroflot.
The agreement, which will run until 2032, will see the MRO provide component MRO support across the SkyTeam carrier's fleet, which includes Airbus A320 family, A330, A350, as well as Boeing 737 and 777 jets. HAECO will also provide services for Aeroflot's Sukhoi Superjet 100 fleet.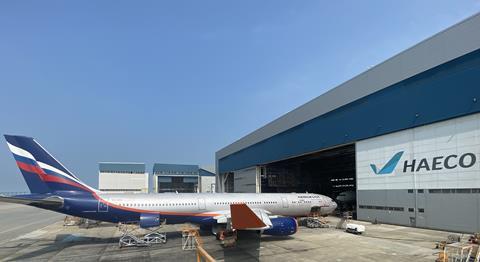 It adds that component maintenance support will be jointly provided by other units in the HAECO Group, including facilities in Xiamen and Hong Kong.
Aeroflot is an existing customer of HAECO's aircraft MRO services. The company already provides line maintenance for the carrier, and added heavy maintenance support for Aeroflot's A330, A350 and 777 aircraft.
"The signing of the latest long-term agreement is another testament to the ongoing collaboration between the two companies," states HAECO.
Cirium fleets data indicates Aeroflot has an in-service fleet of 194 aircraft. These comprise 97 A320 family aircraft, 12 A330-300s, as well as six A350-900s. It has 43 737-800s and 20 777-300ERs, as well as 16 SSJ100s, in service as well.
Another 15 aircraft, most of them A320ceos, are in storage, the Cirium fleets data reveals.