Chief technology officers from seven of the world's leading aerospace manufacturers have reaffirmed their commitment to achieving more sustainable aviation and the target of net-zero operations by 2050.
However, the CTOs have called for clear government support to enable the development of new technologies and ramp up the production of sustainable aviation fuel (SAF).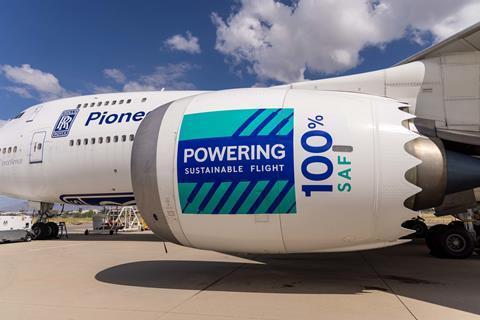 In a joint statement, the group – representing Airbus, Boeing, Dassault Aviation, GE Aviation, Pratt & Whitney, Rolls-Royce and Safran – said its companies "are steadfast to deliver the technical solutions required to decarbonise aviation" through work in three areas.
This comprises: advancing the state-of-the-art in aircraft and engine design and technology; supporting increased availability and adoption of SAF and investigating hydrogen as a fuel of the future; and continuing to develop novel technologies that will eventually enable net-zero carbon aviation while maintaining the safety and quality standards of the industry.
But the group points out that aerospace manufacturers cannot succeed alone. For example, it says "government support and policy incentives are critical to enable a transition towards large-scale adoption of SAF" and calls for "regulatory and financial incentives" to enable the industry to grow.
Similarly "securing an abundant supply of green hydrogen for use in aviation must be a priority".
While the aerospace industry has benefited from public-private research efforts – such as the EU's Clean Sky programme – the group says the scale and duration of such initiatives must be increased "to provide aviation manufacturers with stable support over the long and complex technology development process".
The introduction of these new technologies will also require the support of other stakeholders "to mature supply chains and support infrastructure", it says, alongside a "globally harmonised regulatory framework" which would "create a level playing field for the industry, thereby accelerating the adoption of this novel technology".
Additionally, aerospace manufacturers will need to find the next generation of engineers to deliver this ambitious programme.