Air New Zealand has selected HAECO's cabin solutions unit to supply economy class seats for the carrier's new long-haul aircraft.
HAECO will supply its Vector Economy seats to be installed on 22 Boeing 787s operated by the Star Alliance carrier. The seats will be manufactured at HAECO Cabin Solutions' facilities in Greensboro, North Carolina.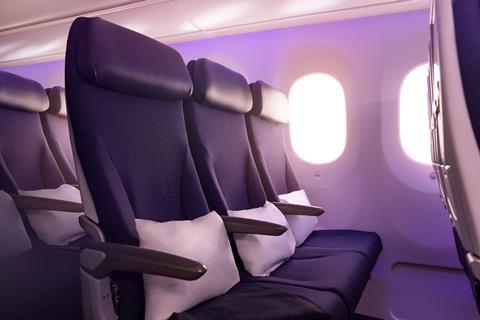 Among its various features, the new seats will come with a 13.3-inch high-definition seatback video screen, as well as an amenity stowage compartment.
The 22 787s, comprising eight new deliveries and 14 retrofitted aircraft, will operate long and ultra-long-haul flights. Airircraft will have either 125 or 213 economy class seats, depending on the configuration.
The new economy class product was among a raft of cabin upgrades announced by Air New Zealand in late-June, which also included the installation of the world's first inflight bunk bed concept in economy class.
Says Air New Zealand aircraft programmes head Kerry Reeves: "We were really encouraged by HAECO in the way they approached our journey to think differently about how we could maximise the economy customer experience."
Adds HAECO Cabin Solutions group director Doug Rasmussen: "Through the use of leading-edge design principles and material selection, including the use of composites and titanium, this seat achieves the dual goals of reduced weight while delivering high durability. Vector Economy also provides a new level of passenger comfort in the economy cabin through industry-leading living space and passenger focused amenities."