AirAsia Group has tied up with Malaysia's state-backed innovation sandbox to test drone delivery services, as it reportedly eyes a foray into air taxi services in the near-term.
The group is partnering with the Malaysian Global Innovation and Creativity Centre to explore and develop the long-term viability of urban drone deliveries.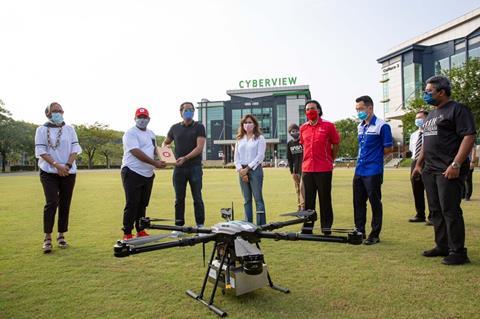 The first commercial delivery, under the group's Teleport logistics unit, will be conducted by the end of the year, AirAsia says.
It adds that the service is "currently at testing stage", and that the delivery trials will be carried out through a six-month "phased approach".
Separately, group chief Tony Fernandes was reported by Malaysian media as saying that AirAsia is working to launch an air taxi service within the next two years.
Fernandes, who was speaking at the Youth Economic Forum 2021, was quoted as saying that the air taxi service can carry up to four passengers. He did not elaborate where he might launch such services.
The AirAsia Group has in recent months doubled down on its pivot away from its core airline business, to digital and logistics services, as it continues to be battered by the coronavirus pandemic.
In September 2020, the group launched AirAsia Digital, which comprises five portfolio companies covering areas like travel, food, payment services and logistics. It followed a raft of consolidation of its other units, including its engineering and media units.
Fernandes himself has expressed optimism that the airline business will "potentially" achieve full recovery within two years, beginning with what he called "gradual" recovery this year.
AirAsia Group, which is due to release its full-year financial results, reported an operating loss of MYR1.02 billion ($250 million) for the quarter ended 30 September 2020. That compared with a MYR264 million operating profit it made during the same quarter in 2019.