Asia Digital Engineering (ADE), the MRO unit of AirAsia Group, has obtained regulatory approval to perform base maintenance work.
The green light from the Civil Aviation Authority of Malaysia (CAAM) expands the capabilities of the fledgling MRO, which began operations in September last year.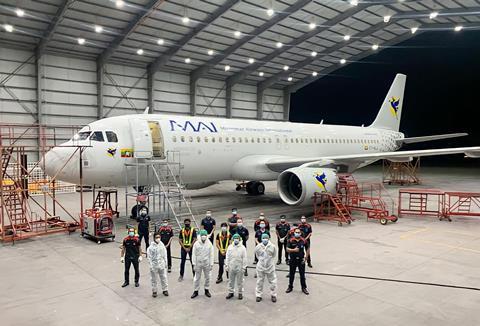 Kuala Lumpur-based ADE says its will start base maintenance works for AirAsia Group's airline units, before expanding to include third-party carriers.
It is also seeking approval from other civil aviation regulators in the Southeast Asia region, as well as with the European Union Aviation Safety Agency.
Chief executive of ADE Mahesh Kumar says the CAAM approval will help cut costs previously spent on sending AirAsia aircraft overseas for heavy maintenance.
Adds Kumar, who previously oversaw fleet and technical asset management at AirAsia: "Based on demand, we are looking to expand our aircraft maintenance facilities and services in [Kuala Lumpur international airport], Johor and other airports in Malaysia by either utilising existing hangars or building new hangars."
ADE was formed as part of group-wide efforts to consolidate engineering capability. When it was launched in September last year, the group stated that the new entity will leverage technology and other digital trends to reduce maintenance costs, increase productivity and efficiency, while maintaining a high level of safety, quality and airworthiness of the fleet.