AirAsia Aviation Group and urban air mobility firm Skyports have signed an agreement to explore the development of air taxi infrastructure, with initial work to be done at AirAsia's Kuala Lumpur hub.
The one-year agreement, signed on 28 July, will focus on a series of "joint feasibility studies" for the integration of air taxi vertiport infrastructure, identification of potential sites, as well as development of operational requirements and frameworks, both companies state in a joint statement.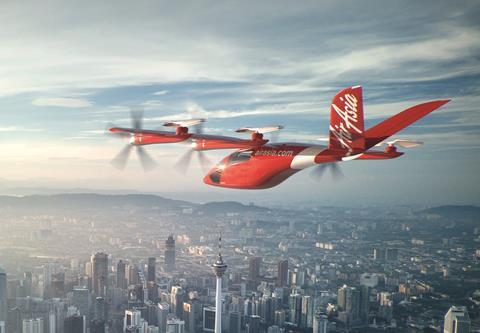 "Leveraging the strengths of both parties, the partnership will draw on AirAsia's aviation expertise and experience, as well as its on-ground market knowledge and networks. Complementing this, Skyports Infrastructure brings to the table its global portfolio of designing and building take-off and landing infrastructure for [electric vertical take-off and landing] passenger aircraft," they add.
At the Singapore air show in February, AirAsia Aviation disclosed plans to lease 100 Vertical Aerospace VX4 eVTOLs from lessor Avolon, joining other carriers like Japan Airlines and Virgin Atlantic to commit to the type. The group is also developing drone delivery services, as well as drone training services.
Skyports head of Asia-Pacific Yun-Yuan Tay says: "This partnership highlights the steady progress of [advanced air mobility] development and interest in Malaysia and the wider APAC region. With innovative and forward-looking partners like AirAsia, we will be able to take concrete steps towards the realisation of a safe, efficient and fully-integrated air taxi network which brings real benefits to the people and communities it serves."
AirAsia Aviation's head of advanced air mobility Ling Liong Tien says the group has been "working round the clock" to explore air taxi service feasibility in Malaysia.
He adds: "This partnership with Skyports will accelerate the review of the infrastructure including vertical take-off and landing platforms in the country as well as strengthen our potential as a zero-emissions ultra-short-haul air travel provider in Southeast Asia."