Despite commencing operations in the middle of the coronavirus pandemic, AirAsia Group's MRO unit Asia Digital Engineering (ADE) sees a silver lining in the crisis, which has brought most of the aviation industry to its knees.
Mahesh Kumar is ADE's chief executive, having moved from AirAsia's fleet management team to helm the unit, which began operations in September last year, after the AirAsia Group consolidated all engineering and MRO capabilities under one entity.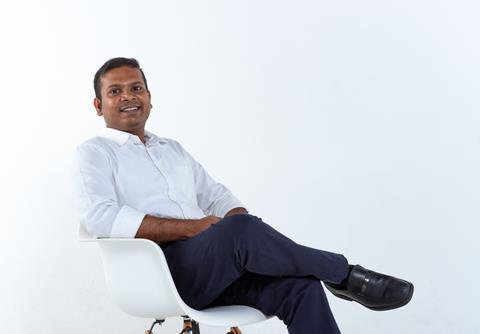 Speaking with FlightGlobal, Mahesh notes that while the pandemic "limits our expansion speed, especially when it involves international authorities and client airlines", it is hopeful for "a huge opportunity [in] a strong recovery post-pandemic".
He adds: "As global operations have slowed down, we've taken the downtime in flying to increase our capabilities, obtain new approvals and streamline processes in preparation for a boost in demand in the near future."
The unit has also tapped other opportunities during the downturn: most recently, it converted an AirAsia Airbus A320 into a temporary freighter by removing its seats.
Mahesh tells FlightGlobal that part of ADE's immediate goals is to "reduce outsourcing" for the group, especially for base maintenance. Indeed, the move to form ADE was part of a broader group-wide consolidation with the aim of reducing costs.
AirAsia Group expects that ADE can help reduce maintenance costs by around 10%.
The company was recently given the regulatory green light from Malaysia's civil aviation authorities to perform heavy maintenance, and has already begun inducting aircraft at its Kuala Lumpur base.
At the onset, ADE's workload will comprise largely of AirAsia Group carriers, which Mahesh estimates to be around 70-80%, with the remainder third-party carriers. He notes that since its inception in September 2020, the MRO has already "secured business from a number of external airlines".
NEW, YET EXPERIENCED
With its launch, ADE joins a regional market populated with several renowned MRO providers. Malaysia itself is also home to a burgeoning aerospace industry, and has set its sights on becoming a regional powerhouse.
While ADE is the new kid on the block, Mahesh is quick to point out that its expertise harks back to more than 20 years earlier, albeit in separate AirAsia units.
"[We] have accomplished a solid 20 years' track record in providing industry leading services for hundreds of aircraft in AirAsia Group's fleet, and this sets us apart from other players in the region," he tells FlightGlobal.
Having had experience on the Airbus A320 and, subsequently, A330 fleet in the past also allows ADE to have "extensive expertise" on the type. This, says Mahesh, is another advantage the fledgling MRO possesses.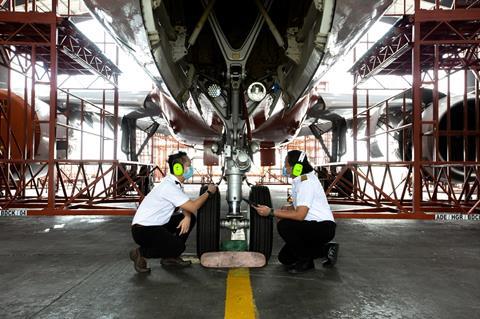 "AirAsia has always operated a fully Airbus fleet, including the A320 and A330 family aircraft. As such, our workforce has extensive expertise and a thorough understanding of Airbus aircraft, including solid technical knowledge in other types of aircraft."
He adds: "Moreover, due to the volume of maintenance over the years, we have an excellent relationship with our original equipment manufacturer (OEM), vendors and suppliers which we can now channel from airline engineering to ADE."
In the pipeline are plans to add more platforms to its MRO capabilities, including the A350s. No AirAsia carrier — including long-haul unit AirAsia X — currently operates A350s, according to Cirium fleets data.
For the immediate future, ADE is working to gain more regulatory approvals for maintenance work, including in AirAsia's key markets of Thailand and the Philippines. Mahesh also discloses that it is working to obtain European Union regulatory approval, to allow it to expand its third-party customer base.
Back home, ADE will also be growing its maintenance hangar presence across the country, in Kuala Lumpur, Johor Bahru in southern Malaysia, as well as in "other strategic airports".
Mahesh remains optimistic of ADE's prospects, especially once the pandemic crisis is over.
He says: "Our longer term goal is to become the leading go-to MRO provider as we always believe that Malaysia is well-positioned to be a strategic hub for aircraft maintenance in the region and beyond. With our low-cost advantage and industry-leading digital innovations, we can deliver greater value and the highest quality outcomes at a fraction of the cost of many of our competitors."