Japan's All Nippon Helicopter has become the first operator of the Airbus Helicopters H160 having taking delivery of a single example of the medium-twin.
Taking place at the manufacturer's Kobe facility, the handover comes around six months after the Japanese civil aviation regulator certificated the type.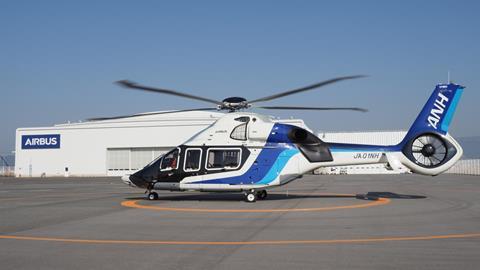 Registered as JA01NH, the H160 will enter service in 2022 and will perform electronic news-gathering services for Japanese television stations.
All Nippon Helicopter already operates five AS365s, as well as five H135s.
Jun Yanagawa, president of All Nippon Helicopter, says: "The electronic news-gathering industry is changing rapidly, and we are happy to have the perfect helicopter for our operations, becoming the leading workhorse in our Airbus fleet."
The H160 is powered by twin Safran Helicopter Engines Arrano turboshafts, and is touted as a multi-role helicopter for missions such as offshore transportation, emergency medical services, private and business aviation, as well as public services.
The European Union Aviation Safety Agency certificated the type in July 2020, followed by the Japan Civil Aviation Bureau in May 2021. Brazil in September became the latest to approve the type.
However, the H160 has yet to receive approval from the US Federal Aviation Administration, dashing Airbus Helicopters' plans of delivering the first of the type to a USA-based private operator.