Airbus and Indonesian Aerospace (PTDI) have signed a memorandum of understanding (MOU) reaffirming their longstanding industrial cooperation.
The MOU will see Airbus help PTDI grow its aerostructures manufacturing business, with the companies to create a "strategic roadmap" for Indonesia's local aerospace sector.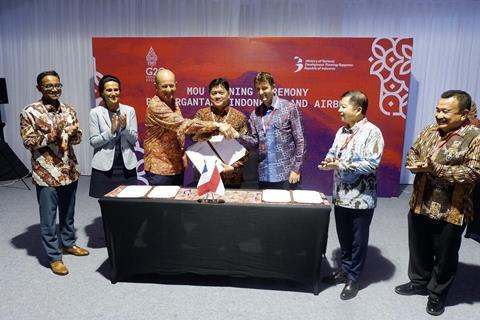 The MOU was signed by PTDI chief executive Gita Amperiawan and Johan Pelissier of Airbus Defence and Space and Vincent Dubrule of Airbus Helicopters.
"Airbus is a strong strategic partner that can contribute to the transformation of PTDI into becoming a major player in the region," says Amperiawan.
"We are confident that this MoU will enable PTDI and Airbus to maintain and strengthen our long term strategic cooperation, by combining our industrial competencies."
He adds that the pact recognises Indonesia as a key market, and enhances PTDI's profile in the aerospace supply chain.
Jakarta is a major operator of both fixed and rotary-wing aircraft produced by Airbus. According to Airbus, the Indonesian air force and police operate 11 C295s, and 150 Airbus Helicopters rotorcraft are in service with over 30 Indonesian operators, for a one-third market share in the country.
In November 2021, Jakarta ordered a pair of A400M tactical transports.
"Airbus and PTDI share a long-standing history of collaboration that started in 1976 with licenses to produce the NC212 light tactical aircraft and NBO-105 helicopter," says Anand Stanley, president of Airbus Asia-Pacific.
"The MoU signed today is an extension of the decades-long partnership and covers a wider range of manufacturing and engineering activities. Airbus is committed to maintaining our position as Indonesia's largest partner in the aerospace industry and we look forward to deepening our relationship with PTDI."