Airbus plans to boost A320neo production at its Mobile, Alabama site to seven aircraft monthly in 2021, an effort that comes amid a US-imposed import tax on European-made commercial aircraft.
Airbus currently produces five A320neos monthly in Mobile, and plans to hit a six-monthly rate with a few weeks, the company says.
Airbus does not attribute the Mobile expansion to US import tariffs. An Airbus media release says only that the expansion will help it reach a goal of bringing its global A320neo production to 63 aircraft monthly in 2021.
Tariffs "did not influence today's announcement. All of our US production is based on the fact that there is a tremendous demand for our single-aisle aircraft from this country," Airbus tells FlightGlobal. "Tariffs should not be a permanent part of the economic/trade landscape, and we're hopeful that the US and Europe will negotiate an end to the current trade dispute well before our Mobile production ramp up is complete."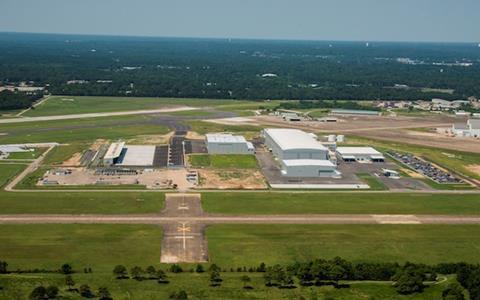 The increase at Mobile to seven aircraft monthly will take effect "by the beginning of next year", Airbus says. "The increase, and continued recruiting for the A220 manufacturing team, will result in a further 275 jobs added at the Alabama-based facility over the next year".
As part of those efforts, Airbus will spend $40 million to build another support hangar in Mobile, bringing its total Mobile investment to more than $1 billion, it adds.
Airbus delivered its first Mobile-assembled A320 in 2016 and began building A220s there in 2019.
It intends to produce four A220s in Mobile monthly by the mid-2020s, at which time the Mobile site's combined A220 and A320 production will hit 130 aircraft annually, says the company.
Airbus America chief executive Jeffrey Knittel attributes the Mobile expansion plan partly to support the company has received from the Mobile community and from state and local lawmakers, among them US Senator Richard Shelby.
Shelby and local officials have supported exemptions for aircraft components from tariffs imposed by the USA on some European imports last year.
The US has imposed 10% import tariffs on aircraft produced in Europe, but not imports of components used to produce new aircraft.
"That's why they're expanding" in Mobile, says Teal Group aerospace analyst Richard Aboulafia.
Story updated on 9 January to include comments about tariffs from Airbus in the fourth paragraph. Updated on 10 January to correct the number aircraft to be produced in Mobile.