The organisers of the biennial Airshow China event in Zhuhai have officially confirmed the show's cancellation, a month after an initial announcement was hastily retracted.
A notice on the show's website gave no indication as to when the next show will take place, except to say that the new dates will be announced "separately".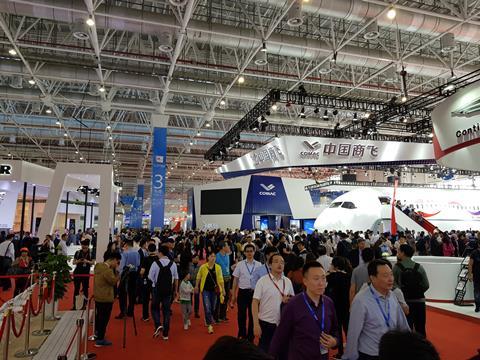 Organisers cite the uncertainty surrounding the coronavirus pandemic as a key reason for the show's postponement: "At present, the global spread [of the coronavirus pandemic] has not been effectively controlled."
Airshow China, traditionally a major event in China's aerospace calendar, was to have been held from 10-15 November.
China, where the outbreak was first discovered, has claimed control over the pandemic, and has reopened most of its domestic economy. However, global travel restrictions related to the pandemic mean that international participation will be negligible at best.
In September, organisers backtracked on a cancellation statement sent out to media outlets, pending a formal announcement. The initial statement had said that the next show would take place in 2022.
FlightGlobal also understands that government officials, as well as organisations involved, have been grappling with how to proceed with the event. As recently as September, the show's website still stated that the event would take place this year.
Separately, organisers of the Japan International Aerospace Exhibition have announced the cancellation of the 2021 edition of their event, holding it in 2024 instead.
Organisers say the event would clash with the holding of the Tokyo Olympics, which itself was postponed for a year due to the coronavirus outbreak.
"The exhibition executive committee has determined that it is not possible to hold an international exhibition even in 2022, considering the preparation period for the international exhibition," they add.
As such, the next edition of the event will be held in the fall of 2024, which organisers say coincides with the 70th anniversary of the founding of the Japan Self-Defence Forces.