Australia's Alliance Aviation has received investment approval for the construction of an MRO facility at Rockhampton airport in Queensland state, as the airline expects longer-term cost savings in moving base maintenance works back to Australia.
The new facility — estimated to cost A$60 million ($58.4 million) — is expected to finish construction by November 2022, with certification and commissioning to follow soon after.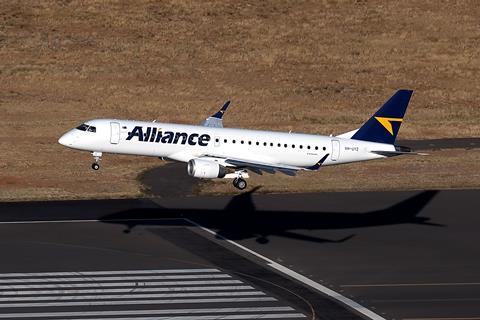 Spanning 10,000sqm (107,600 sq ft), the three-bay base maintenance facility — said to be the largest civil aircraft hangar in regional Australia — will support Alliance's fleet of Fokker and Embraer aircraft.
The airline currently operates 11 Embraer E190s, 24 Fokker F100s, 14 F70s, as well as five F50 turboprops. Alliance is also due to take delivery of 19 more E190s in 2022.
The announcement comes nearly two years since the carrier started a feasibility study for the construction of a regional base maintenance facility.
"A lesson learnt by a lot of businesses in Australia since that time is that we must return to greater reliance on domestic capability," it states.
Alliance touts cost savings — from maintenance expenses to fuel costs — from not sending its aircraft offshore for base maintenance. Currently, the carrier sends aircraft to Singapore, Costa Rica, Slovakia and the UK for maintenance.
"By onshoring 100% of the company's base maintenance, there will be an estimated A$5-7 million annual reduction of base maintenance expenditure, inclusive of a saving in fuel of 1.5 million litres per annum," says Alliance.
It adds that a "significant advantage" will be the greater availability of aircraft in service, and that this will go some way in improving profitability.
Of the expenses required for the facility construction, Alliance says it will be sourced from government grants as well as loan facilities.