Pratt & Whitney has opened its first PW1100G geared turbofan MRO centre in China, by adding Beijing-based Ameco to its global network of MRO providers.
Ameco will also be Asia's fourth PW1100G MRO centre, after Eagle Services Asia in Singapore, as well as IHI and Mitsubishi Heavy Industries Aero Engines in Japan.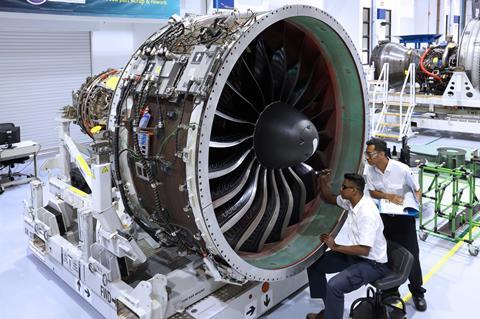 P&W adds that by the end of the year, there will be 10 active PW1100G MRO centres in the world, including Ameco.
Dave Emmerling, who is vice president for commercial aftermarket at P&W, says: "With Ameco, we welcome an experienced and capable provider that is willing to invest and grow with the network. Ameco's facility will become the first GTF MRO network shop in China, marking a significant milestone as we continue to support our growing fleet and customers in the region.
There are currently 120 PW1100G-powered Airbus A320neo family aircraft in service in China, with another 11 in storage, Cirium fleets data shows.
Operators of the type include Ameco parent company Air China, as well as China Southern Airlines and Sichuan Airlines.