Chinese MRO provider Ameco and Collins Aerospace have expanded a long-term component support contract for Air China's fleet.
The expansion of the 10-year agreement — announced at Airshow China 2021 in Zhuhai — will see Collins' integrated drive generator, as well as other generators, added to the support contract.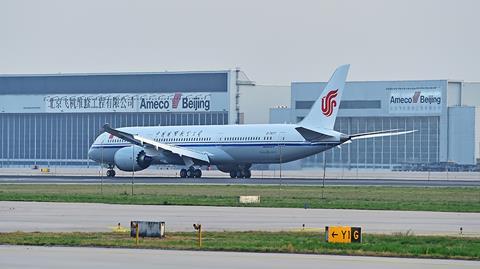 Consequently, Collins will also extend its onsite inventory management services for all of Ameco's generator capabilities. It will encompass Air China's various aircraft platforms, including the Comac ARJ21 regional jet, as well as the Boeing 787 and Airbus A320neo family aircraft.
Separately at the show, Ameco also inked a series of maintenance partnerships and agreements.
With Shenzhen Airlines, the MRO provider extended its power-by-the-hour contract for Auxiliary Power Unit maintenance.
The contract, which spans an undisclosed time period, will cover the Honeywell GTCP131-9A APUs on all of Shenzhen Airlines' Airbus A320 aircraft.
Ameco also signed a strategic cooperation agreement with logistics group SF Holdings, which is the parent company of cargo carrier SF Airlines.
Under the two-year partnership, both companies will "establish and promote logistics supply chain cooperation, strengthen and deepen aircraft maintenance cooperation, and explore business cooperation in other fields", says Ameco.
The Beijing-based MRO provider will also be partnering two Chinese airports — Shaoguan Danxia airport in Guangdong province and Hengyang Nanyue airport in Hunan province — for maintenance-related services.
Ameco will set up a line maintenance station at Shaoguan Danxia airport, a former military airbase which reopened this year after a two-year expansion.
At Hengyang airport, Ameco will "undertake line maintenance work", as well as provide training to build up a local MRO workforce.