Asia-Pacific carriers have signed a raft of agreements with MRO providers and manufacturers in the region, with works ranging from engines to landing gear, as well as other aircraft components.
Thai low-cost operator Nok Air renewed a component MRO partnership with Singapore's ST Engineering, covering parts for its fleet of Boeing 737-800s.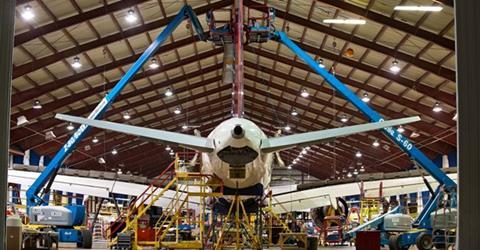 ST Engineering says the five-year component support deal will cover component repair management, pool support, as well as dedicated consignment stock in Bangkok.
France-headquartered Safran, meanwhile, secured a series MRO deals from Asian carriers. With Philippine Airlines, Safran will signed a multi-year contract for the maintenance of Airbus landing gears. It will cover the landing gears of about 30 A330 and A320 family jets, with works to be carried out at Safran's Singapore facility.
Compatriot Cebu Pacific also picked Safran for landing gear MRO services for 14 A320s in its fleet. The three-year contract will see MRO works carried out at the Singapore workshop.
Safran's nacelle unit also renewed a service agreement with Hong Kong's Cathay Pacific, covering the thrust reversers of the airline's 51 A330s, for another five years.
Cathay and its low-cost unit HK Express have also picked Safran Nacelles for nacelle support of 32 A321neos for a five-year period. Both airlines will have access a shared pool of nacelles assets, the company adds.
Safran also signed a three-year deal with China's Spring Airlines for nacelle MRO work on its fleet of A320neos.
All nacelle MRO works will be carried out at Safran's Suzhou workshop, which has just began operations. The site offers nacelle and thrust reverser repair services, covering A330s, A320neos powered by CFM International LEAP-1A engines, and Comac's C919 narrowbody.