At the MRO Asia-Pacific exhibition in September, there were two words that were often heard and hard to miss – supply chain.
Like their airline counterparts, MRO providers in the Asia-Pacific region see "encouraging" signs of recovery in the region, especially with border restrictions largely eased. The positive impact, according to MRO players FlightGlobal spoke to at the sidelines of the recent MRO Asia-Pacific event, has been felt in areas of business such as line maintenance, as more flights resume.
Yet, even amid the optimism that the proverbial corner has been turned, MRO players are acutely aware that more pressing challenges await them, including a tight labour market, as well as inflation.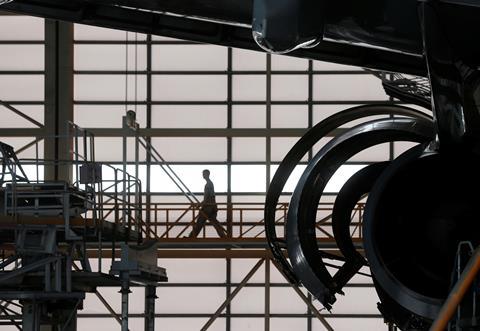 That said, MRO players still say supply chain issues are their biggest challenge.
According to many, the issue was already there before the coronavirus pandemic, but was made worse by both downsizing during Covid-19, as well as the Ukraine crisis. They state that there is little to do but to wait, as workshop timelines get pushed to the right, and works get reshuffled to accommodate a delay in supply kits.
Coupled with a strong uptick in maintenance demand, MRO players acknowledge they are treading a delicate line between demand and supply.
SUPPLY CHAIN WOES: 'VARIOUS EXCUSES', BUT IMPROVING
HAECO chief commercial officer Richard Kendall tells FlightGlobal that while supply chain issues have not affected base maintenance works "as much", the impact has been more profoundly felt in its cabin services division, which manufactures cabin products and performs cabin modifications and retrofits for airline customers.
He says: "We have seen impact in terms of cabin modification programmes being affected by kit supplies … We have our own manufacturing, we are an OEM ourselves in terms of cabin seating and interior, monuments and samples, and we've definitely seen supply chain issues affecting our delivery…performance."
"We have operators coming to us saying that an aircraft has been booked for a C-check and a cabin modification programme…but we don't have a kit for that, so we have to bring in…another aircraft for a C-check and [postpone the cabin modifications] to a later date," Kendall adds.
Collins Aerospace regional director for customer and account management (Asia-Pacific) Hart Duan adds: "Demand forecasting is getting more difficult as the post pandemic recovery does not follow any conventional trends that we have experienced before."
"I think it's important for the industry to establish strong local presence and sourcing capabilities in countries throughout Asia Pacific to minimise their exposure to evolving market and trade forces, and work closely with their customers to better understand their needs for more accurate forecasting on demand and requirements."
Asia Digital Engineering (ADE) chief Mahesh Kumar, meanwhile, says managing supply chain issues "was a bit tough" at the onset, as flight operations restarted following the lifting of travel restrictions. Parts the Malaysia-based, AirAsia-linked MRO provider ordered for maintenance services could take up to 180 days to arrive.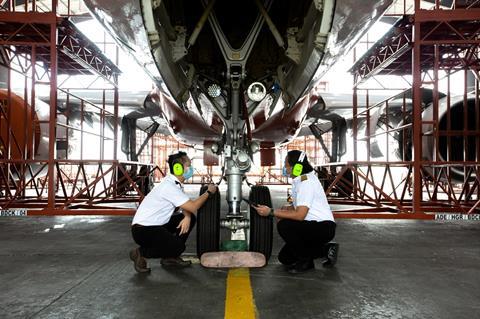 "The lead time to get [parked] aircraft back in the air is taking longer. A check which would be done in two weeks in the past now takes [up to] four weeks," Mahesh notes.
He adds: "We want things to move quicker…but on a positive side I will say [the situation] is really improving compared to…nine or 10 months ago."
Cebu Pacific engineering and fleet management senior advisor Shevantha Weerasekera was a bit blunter: "The supply chain issues are global, and the suppliers and vendors are giving everybody various excuses [for the delays]."
Weerasekera contends that major markets – save for China – have already dropped pandemic restrictions, and that the Ukraine crisis was about six months ago, which would have given suppliers enough time to plan for a ramp-up.
"[They] didn't plan for the capacity. [They] didn't plan for the ramp up. [They] were taken by surprise," he tells FlightGlobal.
"It is a domino effect, but because the head of the process failed to plan and failed to take some mitigating actions…they're just [kicking] the bucket all the way to the end, and [hoping that] the airline [will] either absorb the problem or … pay up to try to fix it."
"[There] is a need for the front end the shops to actually get their act together and work on supply chain," Weerasekera adds. He believes the supply chain issues should be resolved by the first-quarter of the new year.
MANPOWER ANOTHER KEY ISSUE
Another challenge confronting the sector is that of manpower, which has become more pressing as demand returns.
HAECO's Kendall says labour "remains our biggest challenge", particularly in Hong Kong and the USA, where it also has MRO presence.
While HAECO did not lay off any of its workforce during the two years of the pandemic, Kendall says "it doesn't mean that we've retained everybody", noting that workers have left the company either by retiring or after finding better opportunities in other industries.
"We're having to work quite hard to bring in young people into the industry. We're competing with maybe more exciting sounding industries, like IT… to encourage people to become an aircraft mechanic," Kendall adds.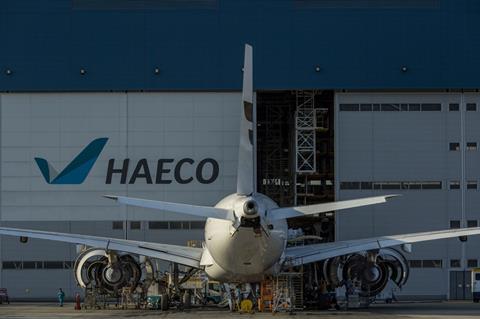 Collins's Duan says: "MRO skillsets are very specific and highly dependent on product training. It typically takes up to six months to train a competent technician. Likewise, retaining skilled labour is crucial in ensuring a sustainable growth for our MRO operations."
Concurring, Weerasekera says a key priority for Cebu Pacific is in retaining skilled labour, some of whom join the airline before leaving to operators or providers in other regions after a few years.
To this end, he notes that the airline has been "doing a lot" to retain staff: "[We] are doing a lot to educate staff, give them career opportunities, give them training, and…make the…work atmosphere a lot more fun."
Mahesh of ADE says the MRO provider is "blessed" that manpower is not a major issue, as Malaysia has a steady pipeline of trained workers.
WHERE THE OPPORTUNITIES ARE
Mahesh is very bullish about prospects, noting that its new 14-line hangar in Kuala Lumpur will be ready by early 2024, allowing it to rapidly increase maintenance capacity.
The MRO provider is also "exploring opportunities" in passenger-to-freighter conversions, something Mahesh says that with the expanded hangar capacity, "we can allocate some of the lines to concentrate on freighter conversions".
"My immediate priority now is to ramp up the business…to do more checks. We are getting a lot of serious requests from third party airlines," he tells FlightGlobal. ADE's business is primarily with the AirAsia Group of airlines, making up nearly 90%, with third party airlines the remainder.
Meanwhile, HAECO's Kendall points out that the engine maintenance business, as well as in components, are two key areas of opportunity in the near term.
The group in recent years consolidated its engine MRO capabilities under a Global Engine Support unit, allowing it to tap into opportunities in the engine services sector. The unit has presence in Europe and the USA, and Kendall is optimistic that the engine business will "continue to expand".
Another area HAECO is keen to explore in the future is in advanced air mobility, particularly in Mainland China. Says Kendall: "We're working with an operator there to help them achieve airworthiness certification for their aircraft and looking to develop a maintenance programme."
"I think it's certainly an exciting aspect of the market in the future and one that the [MRO providers] will have to be involved in as well," he adds.
Collins's Duan tells FlightGlobal: "We see opportunities for the sector in driving down total cost of ownership with tailored MRO solutions to meet customers' requirements with cost predictability being a key value add, and technological innovations to help the industry reduce cost and increase productivity. We also see opportunities in the implementation of sustainable technologies to meet industry goals around emissions reduction."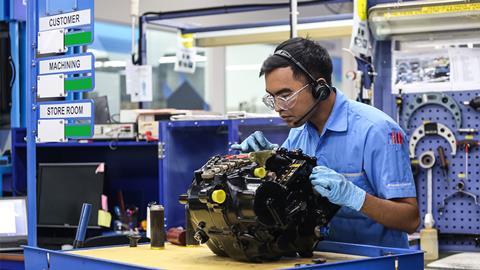 Weerasekera is optimistic that Cebu Pacific will continue to grow its domestic and regional network, which will present MRO-related opportunities. It hopes to expand its line maintenance presence in the country, through business unit Aviation Partnership Philippines (APlus).
He also tells FlightGlobal that the airline is "in conversations" with original equipment manufacturers about partnerships and possibly "opening shop in the Philippines".
"[We] might prefer to keep our components in [this] region or even locally, than … to put it in a box and ship it out [from] the US or somewhere else," he says, noting that some companies "are already listening".