Heston MRO will embark on a "staged and disciplined growth path", focusing on its core business of the Oceania region in the short term, before expansion to the wider Asia-Pacific market.
The Brisbane-based MRO's chief executive Asta Zirlyte tells FlightGlobal that the MRO will complete its "organic expansion of capabilities" in Australia and the wider New Zealand and Pacific Islands regional market over the next two to three years.
"Once that is accomplished and we have an established customer base, we can venture into other geographies, exporting the accumulated know-how into Southeast Asia and beyond," Zirlyte adds.
In the third quarter of the year, the MRO, which focuses on line and component maintenance, is hoping to expand into the engines business, first by offering on-wing engine MRO.
"Heston MRO continues to also see opportunities for [base], light [and] heavy maintenance in Australia, thus we are exploring this topic with a couple of shortlisted airports and local governments," Zirlyte adds.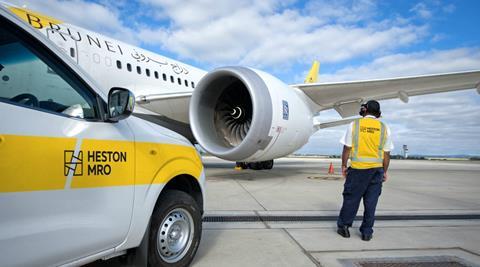 Heston began operations in 1992 as Aircraft Maintenance Services Australia (AMSA), providing line maintenance to international carriers flying into Australia.
In 2007, AMSA became part of Singapore Airlines Engineering, before the latter divested its ownership in 2018.
It rebranded to become Heston MRO in early 2019, after being bought over by Heston Aviation in December 2018.
Touting itself as a "truly independent MRO" for the Oceania region, Heston counts Singapore Airlines, Royal Brunei Airlines and Fiji Airways among its customers.
Zirlyte tells FlightGlobal that its independence – not being affiliated or owned by any particular airline – puts the company in a "unique position".
"We care about every customer that we service [and] we do not have 'corporate priorities' handed down to our team, like so many airline-attached MROs have," she says.
While Australia has its disadvantages compared to its Asian competitors, such as an aging work force, Zirlyte says the lack of an independent MRO presents Heston with the perfect niche to fill.
"The country has been somehow neglected by global independent MROs, thus basic services are created by airlines in-house, resulting in duplications and inefficiencies.
"Needless to say, [the pandemic] is challenging these historical set-ups and creating opportunities for locally-based, efficient MRO players," Zirlyte tells FlightGlobal.
"We care about every customer that we service [and] we do not have 'corporate priorities' handed down to our team, like so many airline-attached MROs have." - Asta Zirlyte, chief executive, Heston MRO
She notes that the coronavirus outbreak has impacted revenue, especially because a significant amount — at about 90% — of business comes from international traffic serving the Australian market.
The "major hit" saw revenue fall to only about a third of what Heston previously made.
To this end, Heston has embarked on a series of measures not unlike its peers in the industry. These include conserving cash by "aggressively adjusting" Heston's cost structure, and tapping federal support programmes.
Despite the global downturn caused by the coronavirus outbreak, Zirlyte is upbeat about prospects, and says the MRO will continue to tap into opportunities in and around the region.
In particular, it is looking at opportunities domestically and regionally, as the domestic market will recover faster than international traffic.
"We are trying to rebalance Heston's customer pool to a [good] mix of domestic/regional and international airlines, thus tapping into the faster-recovering domestic aviation markets," Zirlyte says, noting that it is targeting "at least half of our revenue" to come from domestic and regional customers.
It is also looking to add new capabilities and services in the future, having received Australia's Civil Aviation Safety Authority Part 147 technical training capability this year.
Zirlyte is buoyant about Heston's future prospects: "We are following through with our original strategic plans…nothing has been put on hold due to the pandemic."
"We [made] certain adjustments to the speed or scope of the projects, but overall, we are following the same direction…determined before the pandemic," she adds.
This story has been updated with additional comments from Zirlyte.