De Havilland Canada Dash 8 aircraft operated by Cobham on behalf of the Australian government are undergoing an extensive sensor upgrade.
The work will be performed by Cobham Special Mission and Australian software company Acacia systems, said Cobham on 1 March.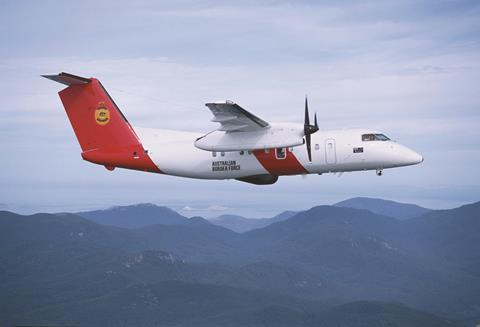 Asked for details about the upgrade work, Cobham had this to say: "The upgrade will replace a number of mission system components (including the radar, Electro Optic turret and the mission management system) to provide overall operational improvements and ensure the Cobham surveillance fleet remains one of the world's leading civilian [intelligence surveillance and reconnaissance] platforms."
Cobham's Dash 8s operate under a contract with Australia's Border Force, monitoring Australia's 3.2 million sq mile (8.2 million sq km) exclusive economic zone.
The aircraft fly some 2,000-2,500 missions annually in all weather conditions.
Cirium fleets data shows that Surveillance Australia, a unit of Cobham Aviation Services Australia, operates 11 Dash 8s (seven -200s and four -300s) with an average aircraft age of 22.1 years.