Next year's Avalon air show has been postponed owing to the coronavirus pandemic, with a new date proposed for late 2021.
The event had been scheduled for 23-28 February 2021, but the organiser, AMDA Foundation, says the event will be pushed back several months, potentially to November.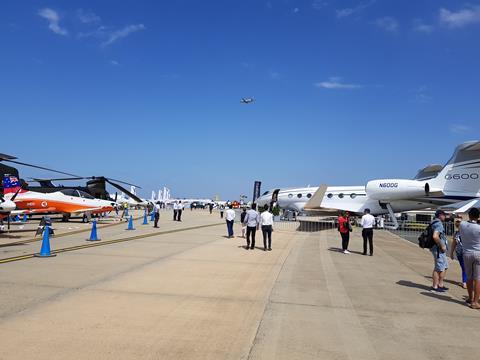 "After extensive consultation and review, it has become clear that the impacts of Covid-19, including lengthy logistical lead times and uncertainty about availability of international travel, would pose unacceptable risks to Avalon 2021, should it continue with its original February dates," it says.
AMDA adds that postponing the show will also help ensure that it makes a meaningful economic impact when it does take place, and allow industry to focus on managing the challenges thrown up by the pandemic.
Occurring every two years near Melbourne, the biennial Avalon event is a key fixture on the Asian air show circuit. In addition to attracting the cream of the global defence industry, it also attracts large delegations from regional air forces.
The 2021 show is of particular significance because next year marks the centenary of the Royal Australian Air Force.
After emerging in Wuhan, China in late 2019, the coronavirus pandemic has had a major impact on aviation events both large and small.
While the Singapore air show went ahead in February, attendance was down from previous years and some exhibitors opted out.
In fact, the Singapore show was one of the few to go ahead as planned: 2020 has seen most major exhibitions cancelled or postponed, including the Aircraft Interiors Expo, Aero Friedrichshafen and ILA Berlin events in Germany, EBACE in Switzerland, ABACE in Shanghai, Chile's FIDAE and major US military gatherings including the Navy League's Sea-Air-Space show and the Army Aviation Association of America's 2020 Summit. In the UK, the Farnborough air show and Royal International Air Tattoo were also cancelled.