Turkish aviation conglomerate Gozen Holding - the owner of Freebird Airlines – could take up to 100 Vertical Aerospace VX4 electric vertical take-off and landing vehicles following an agreement with lessor Avolon.
Gozen will lease or purchase an initial 50 examples of the four-passenger aircraft and has options for an additional 50 units.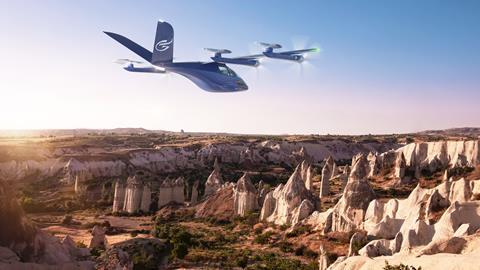 The deal with Gozen means Avolon has now placed all 500 of the VX4s it ordered in June 2021 and is in fact oversubscribed by 50 options.
"Today marks an important milestone on our eVTOL journey, as we have now fully placed our VX4 orderbook with some of the leading international airlines and aviation companies all over the world," says Domhnal Slattery, chief executive of Avolon.
"The strong demand for our VX4 orderbook and for zero-emissions travel, confirms our view that demand for eVTOL aircraft would always outstrip supply. As a result, we will continue working with other partners that want to purchase or lease the VX4 in order to fully size the potential market and demand for this aircraft."
In addition to his position at Avolon, Slattery is also chairman of Vertical Aerospace.
Mekin Gozen, chief executive of Gozen Holding, says eVTOL aircraft will be ideally suited to the Turkish market: "With over 15 million people living in Istanbul, the city is consistently faced with congestion which hinders both the cities' development and attractiveness as a tourist and business location.
"We strongly believe that the deployment of the VX4 will dramatically reshape Istanbul and the rest of Turkey."
Cirium fleets data records Freebird Airlines as operating a fleet of seven Airbus A320s.
As part of the agreement, Avolon, through its innovation affiliate Avolon-e, has formed a strategic partnership with Gozen to commercialise eVTOL travel and develop an urban air mobility platform in Turkey.
The pair will collaborate through a working group to identify and put in place the key elements supporting eVTOL operations in the country, including infrastructure and certification requirements.
Avolon has already set up similar initiatives with other customers including Gol in Brazil, Air Greenland, Japan Airlines and AirAsia.
Vertical Aerospace hopes to secure certification for the VX4 in 2024, with service entry following shortly afterwards.