Boeing announced several extraordinary measures to help the company through the coronavirus crisis which has left the entire aerospace industry reeling.
The Chicago-based aircraft manufacturer says in a statement published on 20 March that chief executive Dave Calhoun and board of directors' chairman Larry Kellner will forgo all pay until the end of the year.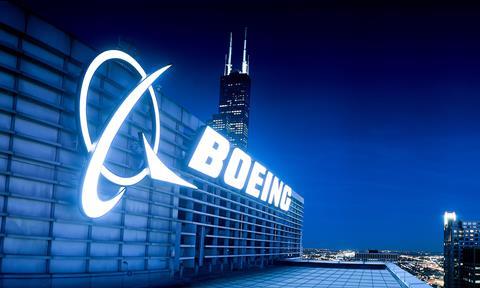 Boeing will also suspend dividends and continue to pause share repurchasing plans until further notice. The company had suspended stock buyback programs almost a year ago, following the grounding of its 737 Max aircraft following two deadly crashes that killed 346 people.
"Boeing is drawing on all of its resources to sustain operations, support its workforce and customers, and maintain supply chain continuity through the COVID-19 crisis and for the long term," the company says.
Earlier in the week, former Boeing board member Nikki Haley resigned after disagreeing with the aircraft maker's request for a $60 billion government aid package for the aerospace industry, funds the company says will help the industry weather the coronavirus downturn and protect 2.5 million jobs.
Boeing's request for aid came the same day President Donald Trump pledged to assist Boeing and other travel-related industries, including the airline sector, which also asked for an aid package of tax relief, grants and loans worth a total of $58 billion.
But on Friday, Trump said that he supports imposing stock buyback restrictions on companies that receive financial aid as part of the federal government's coronavirus recovery package. Airlines and Boeing have been criticised for spending billions of dollars repurchasing their own stock during recent boom years.
The company was already struggling with the 737 Max grounding when the coronavirus outbreak started. Resulting travel bans and declines in demand have led airlines to ground huge portions of their fleets and spurred some to defer or cancel aircraft orders. Analysts suspect more deferrals and cancellations are coming.