Mitsubishi's aerospace business swung to a net profit of Y7.6 billion ($66.6 million) for the first half of its 2021 financial year, although revenues fell 26.5% to Y247 billion.
The company attributed the weaker revenue to production cuts at Boeing, for which MHI is a major supplier.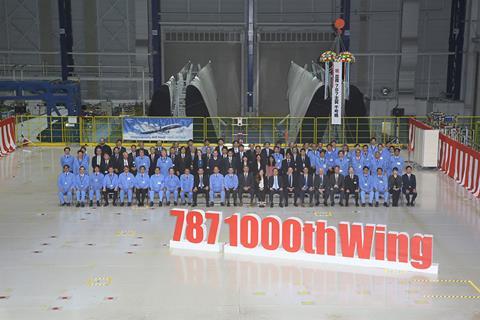 In the first two quarters of the year to 30 September, the company delivered just nine shipsets for the 777 programme, compared with 13 a year earlier. In addition, it delivered three 777X shipsets against six a year earlier, and 19 787 shipsets against 50 in the first six months of 2020 financial year.
The Japanese company has extensive workshare on all three programmes.
The company says its aerostructures business will see a delayed recovery from the coronavirus pandemic, and that the primary focus is optimizing costs.
The company's Aircraft, Defense & Space division also benefited the large reduction in costs associated with the cessation of the SpaceJet regional jet programme.
MHI notes that its aero engines business is "recovering gradually", and that its new Nagasaki factory will increase in-house manufacturing capabilities.
One bright spot was with the company's CRJ regional jet unit, which is experiencing strong maintenance demand owing to the strong recovery of the USA's domestic travel market. The company is expanding its West Virginia service centre, and also has signed an after-sales service partnership with US MRO firm Regional One.
For the first six months of the year, aerospace accounted for 15% of MHI's Y1.7 trillion in total revenue. MHI's other key sectors are energy systems, infrastructure, logistics, and others.