Boeing has expressed dismay with China's 'Big Three' carriers placing an order for 292 A320neo family jets on 1 July.
The US company points to its long history in China's aerospace market, and feels the joint order by the three state-owned carriers – Air China, China Eastern Airlines, and China Southern Airlines – was affected by geopolitical tensions.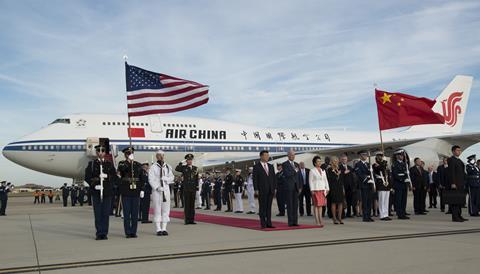 "Today's announcement is an example of how constructive dialogue between governments encourages job creation and the other benefits that result from open aerospace markets," says Boeing.
"As a top US exporter with a 50-year relationship with China's aviation industry, it is disappointing that geopolitical differences continue to constrain US aircraft exports. We continue to urge a productive dialogue between the governments given the mutual economic benefits of a thriving aviation industry. Boeing aircraft sales to China historically support tens of thousands of American jobs, and we are hopeful orders and deliveries will resume promptly."
It offers some stark numbers about its recent delivery performance in Mainland China: in 2021, says Boeing, Airbus delivered 150 aircraft to Boeing's three. In 2022, it says Airbus delivered 47 aircraft to a single aircraft from Boeing.
It adds that it is ready to deliver aircraft worth over $10 billion to Chinese customers.
Though the 737 Max has returned to service globally after a global grounding of the type following two fatal crashes in 2018 and 2019, the type has yet to re-enter service in China, with deliveries also stalled. The Civil Aviation Authority of China was the first regulator to ground the Max in 2019, and among the last to re-certificate it in late 2021.
Although stock exchange filings from the three Chinese carriers state just basic facts about the Airbus order with no mention of geopolitics, it is clear the relationship between China and the USA has become increasingly fraught over the last decade.
Points of contention range from business issues such as corporate espionage and trade, to China's human rights record and increasingly aggressive foreign policy. Moreover, US efforts to deepen regional alliances to counter China's massive arms buildup and sweeping territorial claims have irked Beijing, as have US arms sales – including equipment produced by Boeing Defense, Space & Security – to Taiwan.
Cirium fleets data indicates that Chinese carriers have 102 737 Max jets in storage, with orders for 222 more examples.