Boeing is partnering Spirit AeroSystems for maintenance support for nacelle and flight control repairs of the Boeing 737 Max.
The airframer's services unit signed an agreement with Spirit AeroSystems, itself a manufacturer of several 737 Max components, to provide parts lease and exchange programmes. It is the first pooling arrangement for nacelle and flight control components.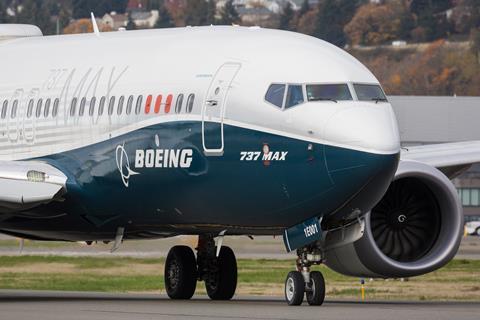 Boeing states: "The agreement will enhance Boeing support for nacelle and flight control surface removals with a more robust MRO footprint while combining Boeing's industry-leading asset pool with the hands-on repair experience of Spirit AeroSystems."
Mini Desai, Boeing Global Services' vice president of commercial spares and managed parts, adds: ""With this agreement, Boeing Global Services is strategically positioned to assist all 737 Max operators by providing lease and exchange programmes to respond quickly to unforeseen events. Our business serves our customer base beyond the sale of aircraft, and now we can expand lease and exchange support for aerostructures with Spirit AeroSystems."
According to Cirium fleets data, there are more than 580 in-service 737 Max aircraft globally. Another 196 jets are in storage, with more than 4,000 aircraft on order.