Boeing has tapped Costa Rican MRO Coopesa to launch Latin America's first Boeing 737-800 Boeing Converted Freighter (BCF) production line.
The first of two new conversion lines will open at Coopesa's Alajuela base in early 2022, followed by the second later in the year, says Boeing.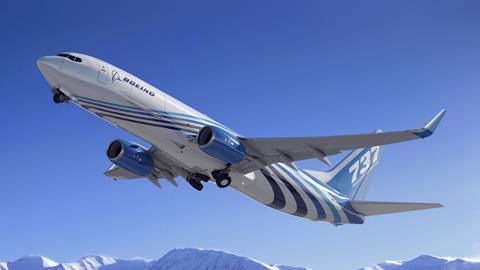 The new production line is the first 737-800BCF production line outside of Asia. Boeing currently does 737 passenger-to-freighter conversions in three locations in China: GAMECO in Guangzhou; Boeing Shanghai Aviation Services (BSAS); as well as Taikoo (Shandong) Aircraft Engineering Company (STAECO) in Jinan.
Jens Steinhagen, director of Boeing freighter conversions, says: "Coopesa has demonstrated the technical expertise and commitment to quality and execution necessary to help us meet the growing customer demand for the 737-800BCF, including in the Americas."
The Coopesa partnership comes on the back of surging demand in the freighter market. Boeing has forecast that nearly a third of standard-boy freighter conversion demand to come from North America and Latin America.
The airframer now has 180 orders and commitments for the 737-800BCF from 15 customers. Current operators include Amazon Air and SpiceJet.
As recent as February, GAMECO announced it was launching a third conversion line at its Guangzhou facility — less than a year after its first line began operations.