Boeing is to partner with sustainable aviation fuel (SAF) specialist SkyNRG to establish a production facility on the US West Coast, in a major step toward making the product more widely available in the largest aviation market.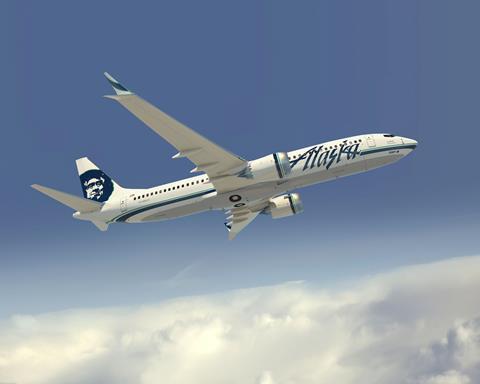 It follows a memorandum of understanding, announced in April, between Seattle-based Alaska Airlines and SkyNRG to work together to increase the availability of SAF to airports in the west of the USA.
Boeing has been working with SkyNRG, an offshoot of Dutch airline KLM, for around a decade and will invest in the plant as well as committing to a "fuel uptake agreement" for its flight test and other airborne campaigns.
Boeing chief sustainability officer Chris Raymond says SAF offers "the greatest potential to reduce our industry's carbon emissions in the near, medium and long term". He describes the partnership with SkyNRG as "an important milestone on our journey to decarbonise aerospace".
The West Coast facility is the first of six SkyNRG plans to set up – the others will all be in Europe – and will be operational by 2026, says managing director Maarten van Dijk.
KLM flew its first flight powered by a mix of SAF and conventional fuel in 2009, and since then SkyNRG has supplied SAF to 40 airlines, says van Dijk. However, he concedes that for SAF uptake to reach critical mass, availability must increase. One of the drawbacks of the fuel is that a lack of distribution means it remains expensive, while higher demand would drive down prices.
"Although we have made significant progress, capacity is very limited, and we need to scale that," says van Dijk. "We need to establish a coalition of the willing to break that chicken and egg situation."
He believes that by 2030, SAF could account for "a couple of percent" of fuel used by airlines, with a "tipping point" around 2050, when SAF will become the predominant fuel.
Boeing, which began its own test flights using SAF in 2008 and uses the fuel to power its 737 ecoDemonstrator test aircraft, said earlier this year that all its aircraft will be certified to fly on 100% SAF by 2030. Aircraft currently are allowed to fly on a blend of SAF of between 10% and 50%.
Raymond says that, while electric and hydrogen propulsion "have their place" in the effort to create a more sustainable aviation industry, SAF is a "drop-in" technology that is already proven.
He adds: "SkyNRG are fully focused on SAF and a proven leader in this field. We've had a long relationship with them, so when they decided to do something in the US, it made sense for us to partner with them."
Boeing's chief technology officer Naveed Hussain is on a panel for a session at Farnborough Connect this afternoon entitled "Reaching net zero – setting the aerospace sustainability agenda".
To view the full programme for FIA Connect register here