Istanbul-based Turkish Technic will grow its components inventory, following the renewal of its tailored parts package agreement with Boeing for another three years.
The MRO unit of Turkish Airlines will see its inventory expanded with 9,000 part numbers following the renewal. These parts include Boeing and supplier parts sourced through the airframer and its partners, the airframer discloses.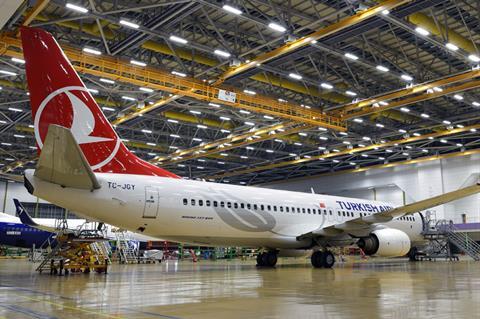 "Through this agreement, Turkish Technic will continue to streamline maintenance operations with price and availability benefits from the renewal agreement," states Boeing.
The latest renewal follows Turkish Technic's entry as a "strategic Boeing supplier" of line, heavy and component maintenance services in 2018. The airframer selected the maintenance unit as a partner to provide MRO services and technical training under the manufacturer's aftermarket support programme.
Says Turkish Technic president and chief executive Mikail Akbulut: "Our renewed parts agreement with Boeing is a testament to our commitment to providing the best final product to our customers."
Adds Boeing Global services chief Ted Colbert: "As our industry continues to manage challenges caused by the pandemic and subsequent recovery, our partners are committed to finding unique solutions that will provide the value to their organisation and final product for their customer."